The

free

ZEITGEIST™ intro pack includes the first adventure,
The Island at the Axis of the World
, and the free
Player's Guide
and
Campaign Guide
.
The
Campaign Guide
includes a full overview of the saga and is meant only for GMs/DMs. The
Player's Guide
is designed for players, and contains background information and character options.

You do not need to be a subscriber to download the intro pack. Simply right-click and save-as to grab the PDFs on this page.
Previews:
Two-page Quick Intro PDF (this is for the GM/DM only)
Player Primer Handout (give this to your players)
The Intro Pack:

These are the REVISED editions of the intro pack files. To distinguish them from the originals, these revised editions have "r1" in the filename and the words "Revision 1" in the bottom left corner of the title page.
ZEITGEIST

Player's Guide

ZEITGEIST

Campaign Guide

Island at the Axis of the World
Print (Softcover) Versions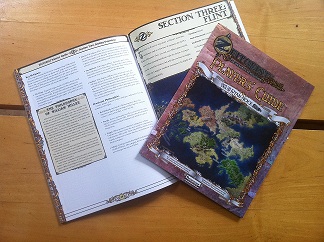 You can also purchase beautiful

softcover versions

of the Intro Pack. Unfortunately, we can't give you the print versons for free, but we do sell them at close to cost price, so we don't make any money on them. Your players will be in awe of you forever if you turn up at the first session with a beautiful

Player's Guide

for each of them!