Back in February, I held a little
D&D Next adventure contest
. The task was to write a roughly 7,500-word adventure for the newest playtest rules using one of a handful maps kindly provided for the purpose by WotC. The contest was to be judged by Sean K Reynolds, Keith Baker, and Kevin Kulp.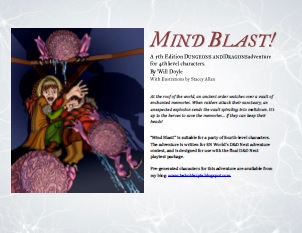 The judges have read all the adventures. They have contemplated, deliberated, and excogitated. And they have arrived at a decision. The winner of the D&D Next Adventure Contest is...
Mind Blast!
-- At the roof of the world, an ancient order watches over a vault of enchanted memories. When raiders attack their sanctuary, an unexpected explosion sends the vault spiraling into meltdown. It's up to the heroes to save the memories… if they can keep their heads! A 5th Edition Dungeons and Dragons adventure for 4th level characters. By Will Doyle, with illustrations by Stacey Allan.
Congratulations to Will and to the other contestants! And thank you so much to the three judges!
You are now able to
download and play all 8 entries
.