Paizo has a new
Pathfinder 2nd Edition
blog up, and this time we're taking a look at weapons! We find out about the Simple/Martial/Exotic scale, weapon traits, critical specialization, weapon groups, and weapon quality.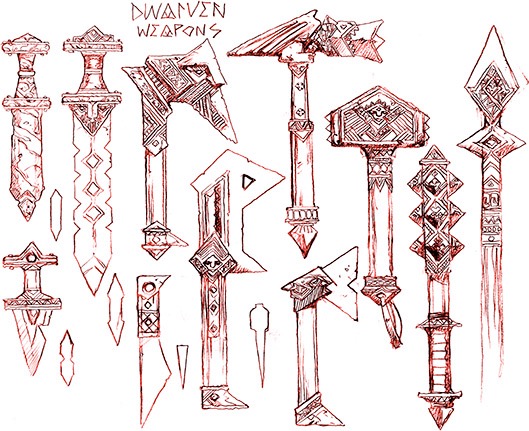 You can
read the full article here
, but here are the highlights:
Simple weapons have smaller damage dice, while exotic weapons have additional abilities.
The simple/martial/exotic scale deals with power and flexibility rather than being a regional descriptor.
Weapon traits --


Greatswords can switch between piercing and slashing damage; d12 damage
Bo staff is d8, has reach, parry, and trip, plus the "monk" trait
Glaive is d8, has reach, "deadly d8" (extra d8s on a critical), forceful (builds up momentum doing extra damage on iterative attacks)
Twin weapons like saw-toothed safer do more damage if you have two
Backswing weapons like great club gain accuracy after a miss
Backstabber weapons like the dog slicer to more damage to flat footed targets
Agile weapons like the short sword decrease penalties for multiple attacks
Finesse weapons like the rapier use your Dex mod for attacks
Two-handed weapons like the bastard sword do more damage with two hands



Critical specialisation is an unlockable weapon ability which has a special effect.


Swords make the target flat-footed
Spears weaken the target's attacks
Axes damage adjacent targets
Daggers cause persistent bleed damage
Clubs knock the target 10 feet



Weapon quality goes from poor, standard, expert, master, legendary and grants -1 to +3 bonus/penalty to hit.