Loading...

What's Your Superhero Name?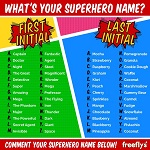 Views: 3919
Overall Rating:3
Description
What's your superhero name? Select your first and last initials to find out! Wait, did we say "superhero"? or did we say "ice cream"?

Alternatively, select "Random" to completely randomize the result.
Generator Reference
Copy this to use in another generator or table


You must be logged in to run generators!
Comments:
You must be a member to leave a comment.