Loading...

Pathfinder Background Generator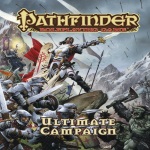 Views: 34979
Overall Rating:10
Description
From Ultimate Campaign, the background generator is intended to remove the creative pressure that can sometimes frustrate players as they try to flesh out the murky details of their characters' backgrounds. This generator provides these details with simple rolls of the die. Think of each element on the background generator's tables as a piece of story material that you can link together with other random pieces to create a story you otherwise might now have imagined. Use this tool to inspire creativity rather than as hard-and-fast rules to mandate rigid and seamless character backgrounds. Though the generator provides many foundational details of a character's background, it takes some creative thought to massage the specifics together. As you use the generator, feel free at any point to reject contradictory elements or ones that go against your vision of the emerging character. The ideas on these tables are simply suggestions designed to channel and focus your imagination.

To generate a background, you roll on a number of tables and subtables, but before you do this, you must decide the gender, race, and class of your PC. Such decisions will help to inform the tables you'll use. After you've determined these basic character elements, you can begin using the background generator to determine your character's unique background.

NOTE: If you choose "Surprise", the generator will ignore all the other selections and select them all completely randomly.
Generator Reference
Copy this to use in another generator or table


You must be logged in to run generators!
Comments:
You must be a member to leave a comment.