Loading...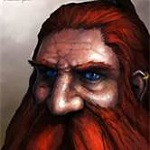 Views: 3100
Overall Rating:0
Description
This generator creates a full (first and second) male dwarf name. First names are composed of two parts and inspired by names such as Bruenor, Balin, and Thorin. Second names are also two parts, and are inspired by names such as Battlehammer, Stonefist, and Fireforge.
Generator Reference
Copy this to use in another generator or table


You must be logged in to run generators!
Comments:
You must be a member to leave a comment.