Loading...

A Campaign From Scratch: Gods and Immortals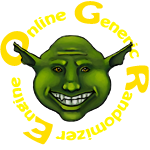 Views: 3678
Overall Rating:6
Description
Make your own Pantheons!

Includes data from this wonderful table: http://charm-monster.blogspot.com/2014/04/random-fantasy-deity-generator.html
Generator Reference
Copy this to use in another generator or table


You must be logged in to run generators!
Comments:
You must be a member to leave a comment.