Loading...

Fantasy Library Generator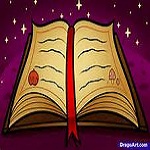 Views: 18984
Overall Rating:9
Description
Generate a library of fantasy magical and non-magical books and tomes! Until you've read Nori the Dark's Resplendent Creed of Volatile Illusion, Dolin the Accursed's Dangerous Guide of Unknown Magics, and Bili the Umbral's Telestic Manual of Demented Divinity, you haven't lived! That's not to mention The Fine Handbook Of Divination And Husbandry, The Lexicon Of Illuminated Alchemy By Finor The Infernal, and the critically panned Transformation And Gambling: A Tome By Nofur The Numinous.

But best of all is The Compendium Of Infernal Foods & Preparation By Bain The Illuminated!
Generator Reference
Copy this to use in another generator or table


You must be logged in to run generators!
Comments:
You must be a member to leave a comment.