Loading...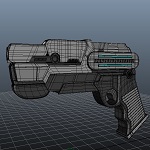 Views: 2856
Overall Rating:6
Description
In an infinite universe, there is an infinite variety of weaponry. This generator creates a science-fiction firearm or melee weapon. Roll up ten or so to stock a small science-fiction firearms shop, and soon you can be the proud owner of an Omnistellar E37 Blackstorm Molecule Assault Rifle, a Terradyne Mechanics J3 Singularity Bow, or a Sunstellar DB37 Kinetic Halberd.


Generator Reference
Copy this to use in another generator or table


You must be logged in to run generators!
Comments:
You must be a member to leave a comment.