Loading...

Captain Wrigley's Starship Emporium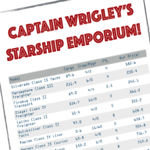 Views: 1724
Overall Rating:10
Description
Starter ships available at Captain Wrigley's Starship Emporium on Tartarus. The perfect ship for all your trading needs! Finance available! Prices in MCr (1 MCr=1,000cr). Includes starship flaws for older vessels.

Select JUNKYARD for the really cheap ships not on view - these ones are all over 40 years old and very faulty.
Generator Reference
Copy this to use in another generator or table


You must be logged in to run generators!
Comments:
You must be a member to leave a comment.