Loading...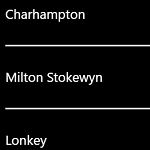 Views: 505
Overall Rating:0
Description
This will create an English sounding city, town or village name. Expanding on
another generator
and adding more syllables, words and variations. Check out
my Patreon Page
for more Generators
Generator Reference
Copy this to use in another generator or table


You must be logged in to run generators!
Comments:
You must be a member to leave a comment.