Loading...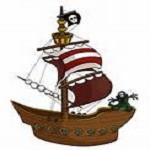 Views: 7573
Overall Rating:7
Description
Aaaar, me hearties! Quickly roll up a pirate ship! A quick and simple two-part generator. This is a traditional English-style pirate ship and captain; I'll likely expand it to contain others (Chinese Pirates and the like) when I get a spare moment.
Generator Reference
Copy this to use in another generator or table


You must be logged in to run generators!
Comments:
You must be a member to leave a comment.