Loading...

Updated 5e Name Generator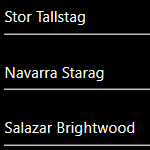 Views: 109
Overall Rating:0
Description
This is an updated version of Sobran's 5E Name Generator at http://www.enworld.org/forum/dnd_view_block.php?id=1601. Adding in races and names from newer D&D sourcebooks.

ToDo: Add in monstrous races from VGtM. Add in expanded name tables from XGtE. See what appears in MToF

Generator Reference
Copy this to use in another generator or table


You must be logged in to run generators!
Comments:
You must be a member to leave a comment.