Loading...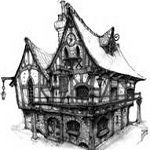 Views: 13579
Overall Rating:9
Description
Generate a detailed tavern - including its name, quality, size, and owner, plus varied drinks and food menus, patrons, current events, lodgings, and local rumours. A complete tavern in under 2 seconds!
Generator Reference
Copy this to use in another generator or table


You must be logged in to run generators!
Comments:
You must be a member to leave a comment.