Loading...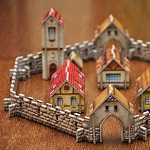 Views: 198
Overall Rating:0
Description
City Wards for the Fantasy City Prep generator.
Includes name, type of area and one or two things about it.
Suggestions and feedback welcome in the comments or at my
Generators Patreon page
Generator Reference
Copy this to use in another generator or table


You must be logged in to run generators!
Comments:
You must be a member to leave a comment.