Loading...

SANTIAGO Alien Race Generator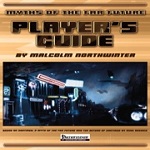 Views: 9775
Overall Rating:8
Description
There are thousands of alien races spread across the galaxy. Many were absorbed into the Democracy long ago, but some races remain independent - or, worse, hostile to humanity. The number of alien variations is almost infinite - if you can imagine it, it exists somewhere in the galaxy. Use this generator to create a unique alien race for use in the SANTIAGO adventure path for Pathfinder. This generator contains additional traits not found in the SANTIAGO player's guide. A species' class (not character class) is a number which represents in Democracy files how 'alien' a species is as compared to a human. Most are within the 1-3 range; it is very rare to encounter anything higher, though the scale does go up to 6.
Generator Reference
Copy this to use in another generator or table


You must be logged in to run generators!
Comments:
You must be a member to leave a comment.