Loading...

Random Alien Food Generator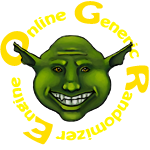 Views: 2179
Overall Rating:7
Description
What does that alien food taste like? Taken from here: http://tinyurl.com/d6khmsl
Generator Reference
Copy this to use in another generator or table


You must be logged in to run generators!
Comments:
You must be a member to leave a comment.