Loading...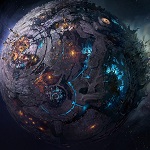 Views: 8065
Overall Rating:9
Description
Star Trek style technobabble, ready for insertion into your sci-fi games! From auxiliary baryon capacitors to phased gravimetric distortions, it won't make sense - but say it with enough conviction and it will sound like it does! Now with added verb option - select "Action" or "Noun". "Noun" works as normal; "Action" adds a verb in front of the noun, such as "Calibrate the..." Finally, if you're feeling brave, select "Complex" for a diagnostic error and technobabble solution.
Generator Reference
Copy this to use in another generator or table


You must be logged in to run generators!
Comments:
You must be a member to leave a comment.