Loading...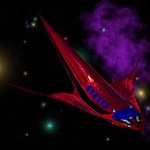 Views: 9963
Overall Rating:8
Description
Generates a quick human-owned spaceship, along with its captain, first officer, and cargo hold. The ship itself may have any origin of manufacture, depending on the franchise you choose, but the captain will be human. Best used to quickly generate a list of ships at a docking port, space station, or similar.
Generator Reference
Copy this to use in another generator or table


You must be logged in to run generators!
Comments:
You must be a member to leave a comment.