Behold a final, and perhaps definitive, graph of D&D vs. AD&D sales over time!

It includes all BECMI boxed sets, 1st & 2nd ed Player's Handbooks, Dungeon Master's Guides, Monster Manuals, and MC1-MC4.

Because of that, I believe this graph is tilted towards AD&D, especially AD&D 2nd edition where people had to buy several of the Monster Compendiums to get the same number of monsters that were contained in the 1st edition Monster Manual.

Despite the fact that the graph is biased towards AD&D, I believe it still shows the phenomenal strength of D&D.

Some observations.

+D&D peaked, then AD&D peaked. Did D&D act as an entry point for AD&D?

+D&D's best year was 1981 when it sold 1,039,913 units. AD&D's best year was 1983, when it sold 1,031,200 units. It's interesting that in their best years they sold so nearly the same amount of product. Was that a sort of ceiling for the game at the time?

If you find me interesting, my book on D&D history, Slaying the Dragon, is out now. Pick it up anywhere books are sold, or use the link below!

Raw data in link below.

Next up, everything for Dark Sun or the Player's Option line? Let me know in the comments!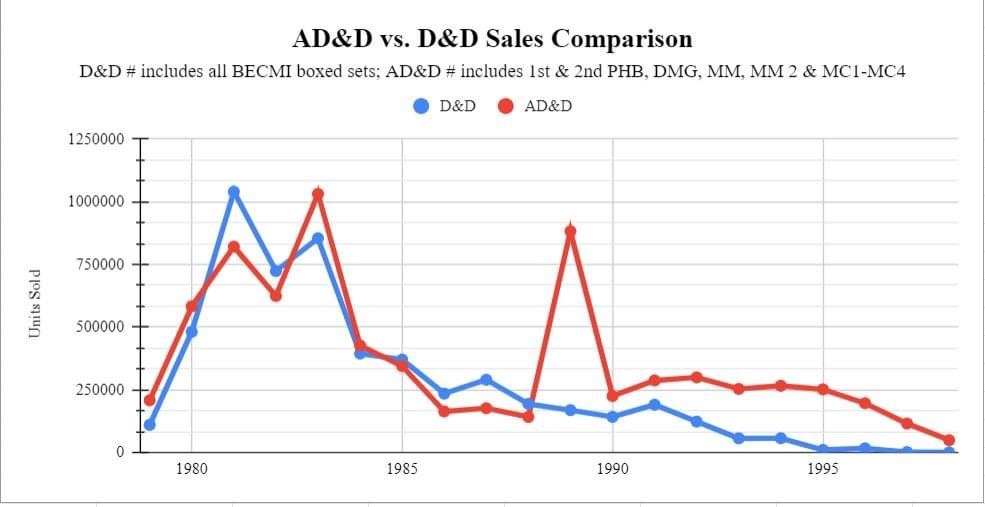 Bens fine volume of nerd history:
Slaying the Dragon - Macmillan
M.T. Black put this chart together.
Nice chart! I used the raw numbers to put together a cumulative chart:
View attachment 256929
Last edited: