The situation is dire, friends. The world is running out of GMs, and we might never get them back. Just look at the cute, little things, in their natural habitat: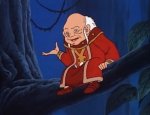 Let's look at the causes, so that we can begin to form a solution:
- Not enough Dungeon Master's Guides. Lots of games put all of the rules in one book, giving players easy access to the GM's secrets.
- Rules-light games. If there are few-to-no rules, for what do you need a rules referee? Such games also facilitate low-prep, which could also mean low-need-for-a-GM.
- Narrative moves. These let players control the story, not just their characters. Formerly a GM's job.
- Fate points. These allow PCs to say, "sorry GM. We're gonna change that," thus diminishing GM authority. See also: GM Intrusions.
- Random generators. Players can create their own unexpected content with these. (Here's looking at you, OGRE!)
- Virtual Tabletops. Who needs a GM to describe a scene, when a VTT lays everything out in PICTURES!? And sometimes animated fog-of-war...
- Gloomhaven, an RPBG (...board game), is GM-less and the second printing has about $4 million in Kickstarter pledges.
Two questions:
- Would you like to see a hard line between the GM role and the PC role?
- If not, where do you draw the line?
Last edited: