With scarcely a parting glance I turned my eyes again toward Mars, lifted my hands toward his lurid rays, and waited..."- John Carter, Gods of Mars

Adventures on the dying world of Barsoom, a planetary romance inspired by the literature of Edgar Rice Burroughs.



https://www.kickstarter.com/projects/modiphius/john-carter-of-mars-the-roleplaying-game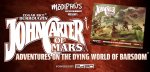 The core book is fully written, and now in layout, depending on what other books are unlocked in the line, we will be aiming for one shipment in the summer prior to a retail release in the fall. As soon as the Kickstarter closes and payments have been processed you will be given access to the complete documents for the core book as well as the full PDF before we go to print, to provide last minute proofreading.


"As I gazed upon it I felt a spell of overpowering fascination - it was Mars, the god of war, and for me, the fighting man, it had always held the power of irresistible enchantment."- John Carter, Princess of Mars