[KICKSTARTER] Korea-Inspired 5E Campaign Setting — The Koryo Hall of Adventures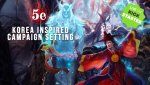 The Koryo Hall of Adventures is a complete fantasy campaign setting for Dungeons and Dragons 5E inspired by the rich history and culture of the Korean peninsula. Written by Aurelién Lainé, a longtime Korea resident and award-winning film director and writer, this book has everything you need to immerse yourself in a fully realized setting that comes alive more than any Asia-flavored sourcebook that came before.
❀ 4 Detailed Kingdoms
❀ New Shaman Class
❀ New Class Variants
❀ New Backgrounds
❀ New Monsters
❀ And much more!
LIVE ON KICKSTARTER NOW
https://www.kickstarter.com/projects/aurelienlaine/the-koryo-hall-of-adventures-5e-compatible-campaig/description