Hey, my Forged in the Dark game Wicked Ones just went live on Kickstarter. I'd appreciate it if you could take a look and maybe tweet or share it out to get more eyes on it!
https://www.kickstarter.com/projects/b-design/wicked-ones
[FONT=&quot]Wicked Ones is a Forged in the Dark tabletop RPG where you play fantasy monsters raiding human lands, hoarding the gold they loot, and building a dungeon to protect it. Your notoriety lures increasingly greedy and powerful adventurers to your dungeon. Can you stave off the inevitable onslaught of heroism that your notoriety brings?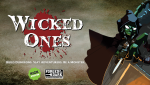 [/FONT]
[FONT=&quot][/FONT]