Hello everyone, Darryl here with this week's gaming news! The Summer of
Shadowrun
starts, Critical Role launches a record label, new preview from
Marvel Multiverse
, and more!
For a quick summary of the week's news, Jessica Hancock will bring you up to speed with
EN Live's This Week in TTRPG every Friday
.
Don't forget, you can keep up with all the week's gaming news in detail with
Morrus' Unofficial Tabletop RPG Talk
. This week, Morrus, Peter, and Jessica talk about starting and running a gaming café.
In case you missed it elsewhere on EN World this week: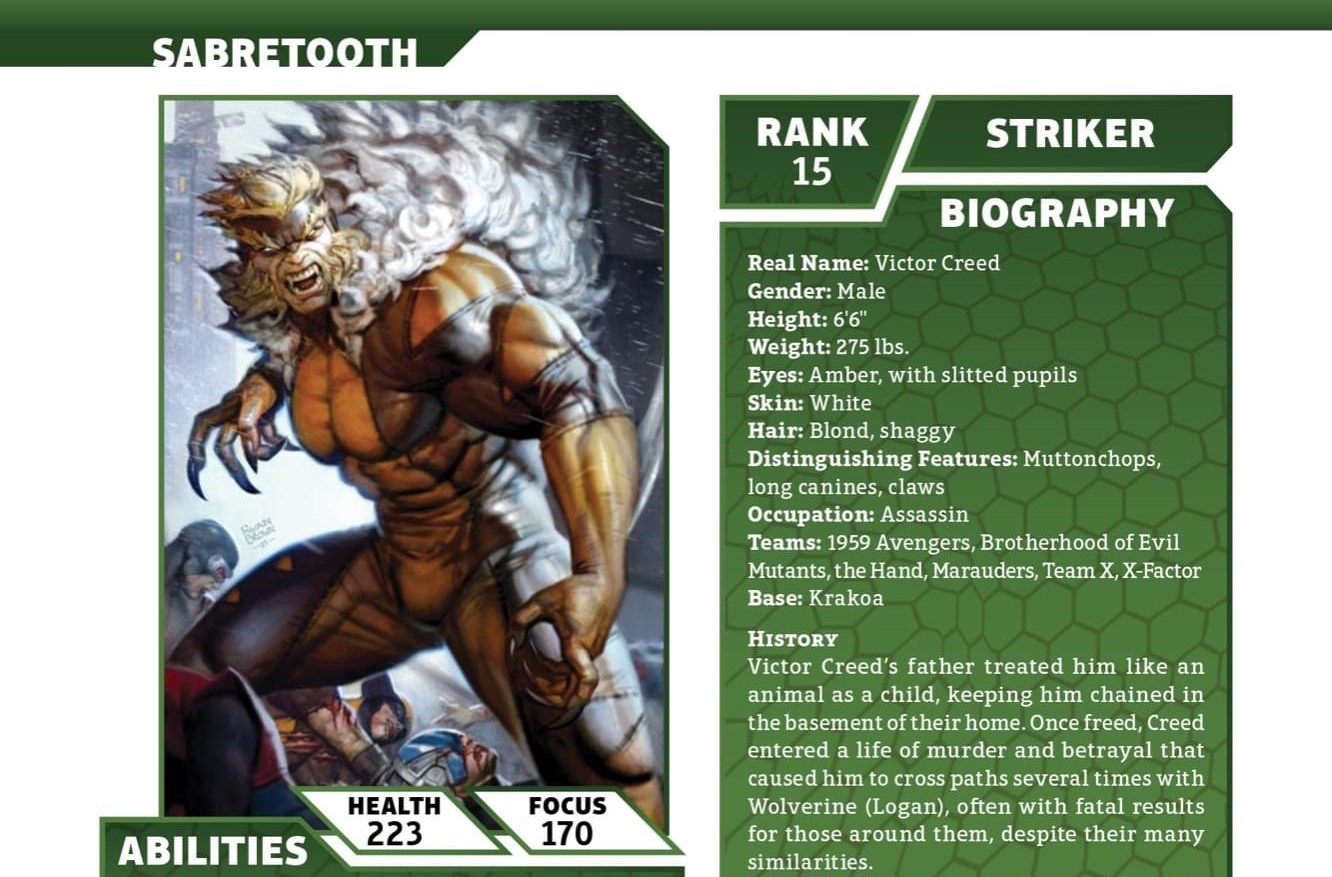 The Marvel Multiverse Role-Playing Game previewed the stat block for the villain/anti-hero Sabretooth
. While the character originally appeared in an issue of
Iron Fist
, Sabretooth is most closely associated as the rival of Wolverine (in some versions of their origins, the two are brothers). The stat block even reflects the fact that, anytime the two faced off against one another, Wolverine has never been able to win a decisive fight against Sabretooth with a note at the bottom stating "Yes, this profile is more powerful than Wolverine's. We're looking to see what rank both of them should be placed at."
The playtest version of Marvel Multiverse released in April available in softcover and Kindle formats
with the final game set for release in 2023.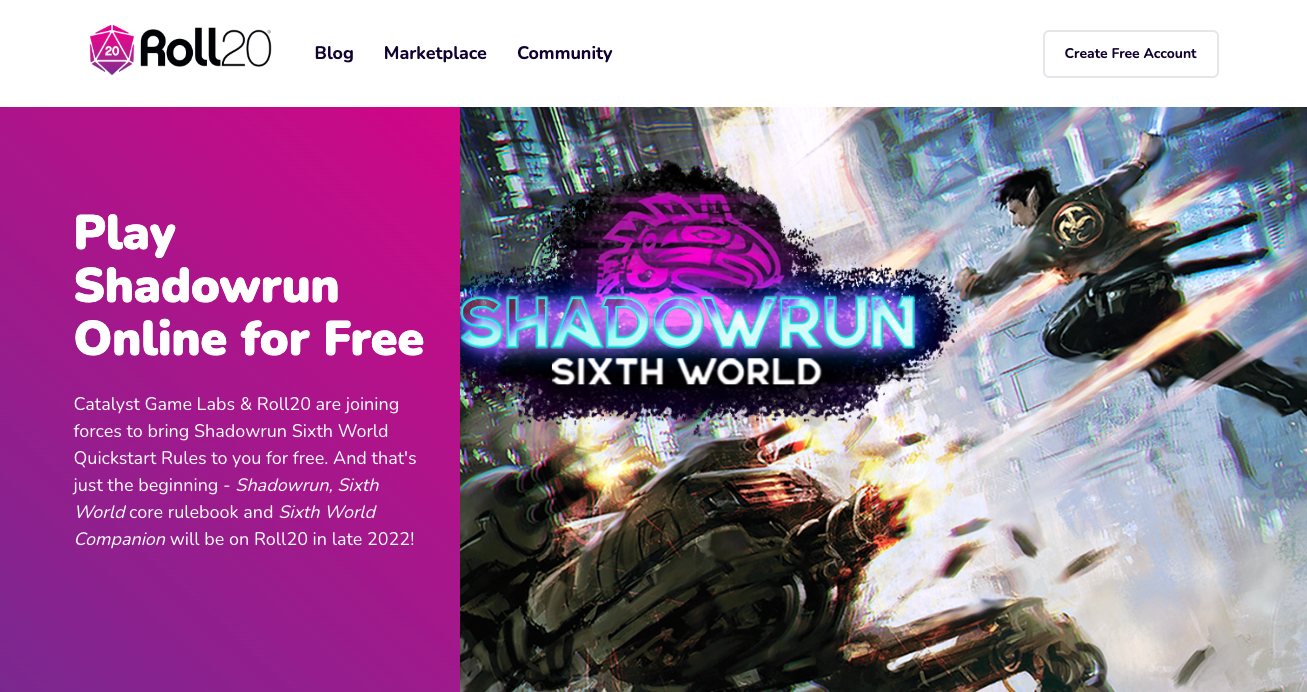 It's the Summer of
Shadowrun
! Last month we had
the launch of Shadowrun Sixth World Companion last month which expanded the character creation options for Shadowrun
, but there are more big announcements that came this week. First,
Shadowrun Sixth World
edition is
finally coming to Roll20 as the Shadowrun Sixth World Quickstart will be available for free soon
with the core rulebook and companion available later this year. You can sign up for an email notification when both go live at the link above and receive a special pre-order discount for both books.
Also, the Shadowrun Trilogy video game series is now available on consoles
! Created by Harebrained Schemes with FASA co-founder Jordan Weisman, the trilogy of
Shadowrun Returns, Shadowrun Dragonfall,
and
Shadowrun Hong Kong
are now available on Nintendo Switch, Xbox, and Playstation consoles for $39.99. If you have an Xbox console and a subscription to the Xbox Game Pass, the
Shadowrun Trilogy
is included at no additional cost as part of your subscription. For PC players who haven't picked this up yet,
it's currently on sale for 75% off in the Steam Store
and is also available as part of the PC subscription for Xbox Game Pass.
Critical Role is expanding once again by
launching Scanlan Shorthalt Music, a recording label to release instrumental background music for roleplaying games
. They've also released their first album,
Welcome to Tal'Dorei
composed by Colm McGuinness, Omar Fadel, and Hexany Audio and features 17 tracks of orchestral-style music inspired by
Critical Role
and the world of Tal'Dorei. And there's a very nice little addition to the announcement page for the content creators out there:
And to all you streamers out there: we welcome you to use this music to add atmosphere to your streamed actual plays of tabletop games! All we ask is that you include a link to stream or purchase the album.
The album is available now on via
Apple Music
,
Spotify
,
YouTube Music
,
Amazon Music
,
Deezer
,
Tidal
, and many other streaming services with varying prices depending on platform or subscription status.
Edge Studio released another preview for the recently-released Midnight: Legacy of Darkness 5e setting
. The blog post serves as a primer to the campaign setting originally published in 2003 by Fantasy Flight Games and now published by their sister company Edge Studio. For those new to the setting, there is a description of the world and the various factions and cultures that thrive in a world dominated by The Shadow as the different cultures of elves, dwarves, halflings, and gnomes have reacted in their own ways to the tyranny of the Night Kings. The 372-page setting book updates the world to 5e rules (and wants everyone to know that the 5e core rules are required to play as there is a big bright red notice in the middle of the page explaining so).
Edge Studio also posted form-fillable character sheets available for free
. The
PDF of Midnight: Legacy of Darkness is available now for $25.00
and the
hardcover is available for a retail price of $54.95
.

Modiphius seeks playtesters for the Lovecraftian horror RPG set in the era of the Roman Empire Cohors Cthulhu
. The game system is based on the
Atchung! Cthulhu
version of the Modiphius 2d20 System set in the 2nd Century AD during the Roman occupation and campaigns in Gaul and Germanic territories as something lurks in the darkness more dangerous than the resisting natives. Few details are available on the site as to what the playtest experience is like, but I've participated in a Modiphius playtest before which involved agreeing to an NDA preventing discussion or sharing of the rules with anyone outside the playtest group and provided a pre-layout version of the game rules. Sign-ups for the playtest are open until Monday, June 27, 2022.
The 2022 Spiel des Jahres nominees are here
along with
the 2022 winner for Kinderspeil des Jahres
. Every year, the Spiel des Jahres recognizes the best in board games in three categories, Kinderspiel des Jahres (children's games), Kennerspiel des Jahres (connoisseur/expert), and Spiel des Jahres (game of the year). The nominees for Kennerspiel (connoisseur/expert) are
Crypid
from Osprey Games,
Dune: Imperium
from Dire Wolf, and
Living Forest
from Pegasus Spiele. The Spiel des Jahres (game of the year) nominees are
Scout!
From One More Game!,
Cascadia
from Flatout Games and AEG, and
Top Ten
from Cocktail Games. The winners in both of these categories will be announced on July 16, but we do know the winner of the Kinderspiel des Jarhres (children's game). The nominees in the category were were
Quacks & Co: Quidlinberg Dash
and
Auch Schon Clever
(translation: "That's Pretty Clever") both by designer Wolfgang Warsch and published by Schmidt Spiele and the winner in the category is
Zauberberg
(aka
Magic Mountain)
by Amigo.
That's all from me for this week! Don't forget
to support our Patreon
to bring you more gaming news content. If you have any news to submit, email us at
news@enpublishingrpg.com
, and you can get
more discussion of the week's news on Morrus' Unofficial Tabletop RPG Talk
every week. You can
follow me on Twitch to get notifications when I go live,
subscribe to Gamer's Tavern on YouTube for videos on gaming history, RPG reviews, and gaming Let's Plays
, or you can listen to
the archives of the Gamer's Tavern podcast
. Until next time, may all your hits be crits!
Note: Links to Amazon, Humble Store, Humble Bundle, and/or DriveThru may contain affiliate links with the proceeds going to the author of this column.
Last edited: