Paizo has just announced a partnership with Demiplane to create a D&D Beyond-style digital toolset for Pathfinder 2nd Edition.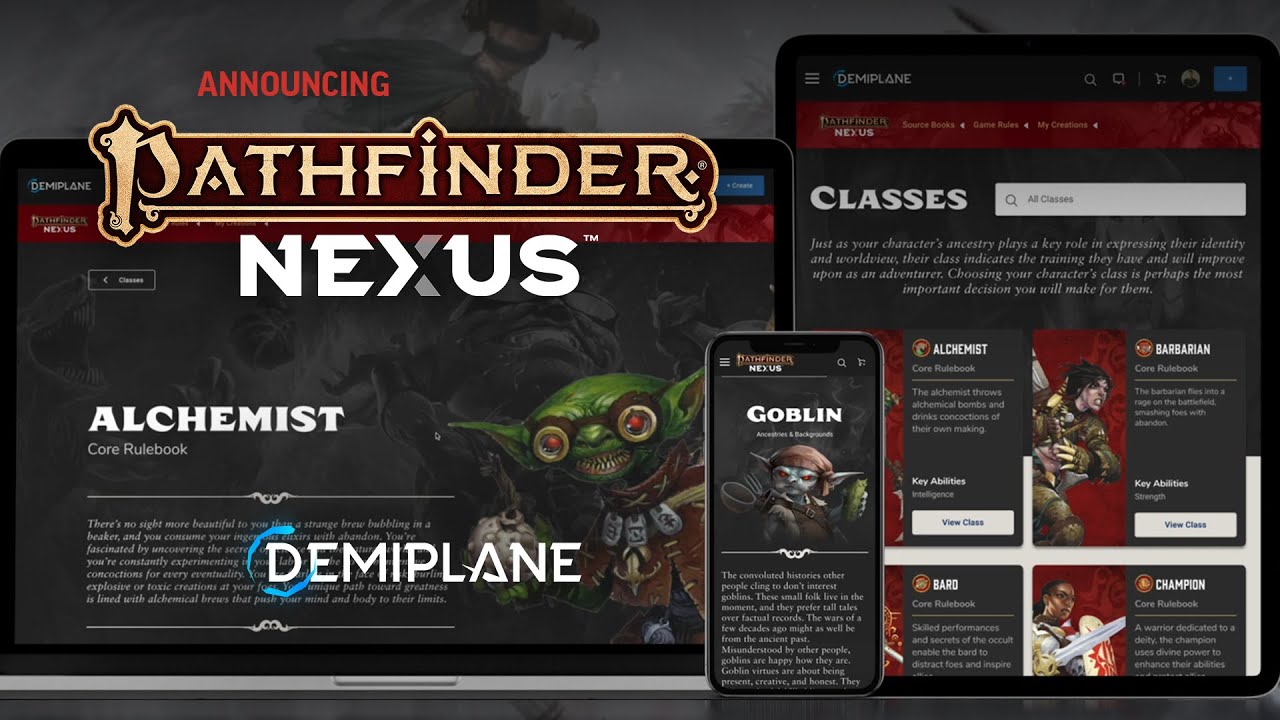 Demiplane (which is described as "a leading digital platform for tabletop roleplaying fans")
was launched last year
. Its Chief Development Officer is Adam Bradford, D&D Beyond's co-founder,
who left D&D Beyond last year
at the same time as other senior staff including Todd Kenrick (DDB's Creative Manager) and Lauren Urban (Community Manager).

GREEN BAY, WI (October 26, 2021) – Today Demiplane, a leading digital platform for tabletop roleplaying fans, announced a multi-year licensing agreement with Paizo Inc. to create Pathfinder Nexus, the official digital toolset and game companion for the award-winning Pathfinder tabletop roleplaying game. Pathfinder Nexus is set to release in early 2022. Pre-orders with early access to the new platform begin today.

Originally released in 2008, Pathfinder is one of the most popular fantasy tabletop roleplaying games in the world, filled with unique characters, rich lore, and exciting monsters, magic, and wonder. Pathfinder Second Edition was released in 2019 with rules that are fast to learn, easy to play, and that offer more customization options than ever before. In Pathfinder, players take on the role of custom-created characters to tell cooperative stories of limitless fantasy adventures and collaborative gameplay amongst friends. Pathfinder Nexus delivers the game's trove of sourcebooks, character options, and adventures in a convenient and easily accessible way, whether players are new to the game or are long-time veterans.

"Pathfinder Nexus will give players the kind of support that a dynamic and expansive game like Pathfinder deserves," said Adam Bradford, Chief Development Officer at Demiplane. "I have seen firsthand how technology can elevate play experiences. I'm thrilled for fans to see how much convenience Pathfinder Nexus brings to the table so that the most important elements can shine through— the players and the stories you're telling together."

Pathfinder Nexus aims to make every part of playing game sessions better, starting with sought-after tools like a game compendium, digital reader, character builder, interactive digital character sheet, as well as a playspace with video chat where all the other tools are fully integrated. Demiplane has an extensive roadmap for Pathfinder Nexus, with new features to enhance play planned for years to come.

"Working with Demiplane on this project has been an absolute dream come true. Demiplane's team brings digital expertise that is truly unique," said Erik Mona, Paizo's Chief Creative Officer. "With Pathfinder Nexus, we're not only able to enhance overall Pathfinder gameplay, but this new toolset will also ensure that more people can experience the game than ever before."