Traditional medieval tactics involving overwhelming numbers are no guarantee of success. It's true in Oz and thanks to high level spellcasters, true in D&D too.
Picture by Александр Коротич - Own work, CC BY-SA 4.0,
File:Иллюстрация к сказочному сериалу Л.Ф.Баума "Страна Оз" 02.jpg - Wikimedia Commons
​
Conquering Oz​
In theory, Oz's ruler Ozma is against violence. That changed in later books (she ordered an execution a wizard) and her definition of violence does not include
polymorph
spells that turn her foes into helpless animals or a
feebleminded
stupor. Ozma's pacifist philosophy extends to her army. She has just one soldier (Omby Amby) and although equipped with a rifle any serious army can easily overcome him.
This fact is not lost on neighboring countries in Oz, who proceed to invade with overwhelming numbers, only to be defeated by magic. There's a lesson here for military tacticians up against wizards too. As Lew Pulsipher explains in "
Tough Times at the Top
", it's often "who shoots first" that determines the winner, and armies move slowly.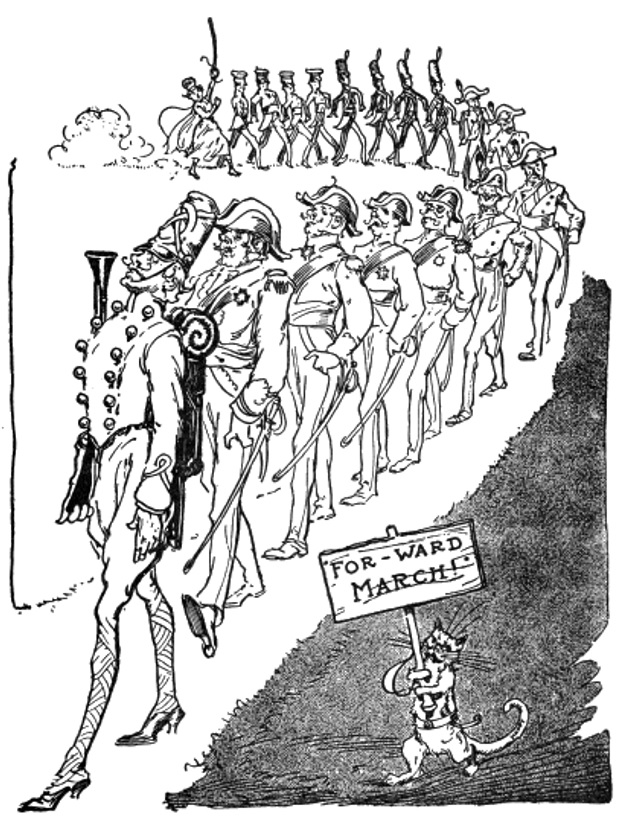 The Army of Oogaboo​
Queen Ann Soforth of Oogaboo has perhaps the smallest army. In
Tik-Tok of Oz
,
she decides to gather up nearly all the men of her kingdom (17, as Jo Candy refused to enlist) and sets off to conquer Oz. Mind, she still has 16 more soldiers than Oz itself, but ends up facing down the Nome King instead. Unlike some of the other armies in Oz that never inflict any damage, the Oogaboo army actually uses its guns on a fearsome Rak (which is like a roc, only worse), bringing it down even if they don't kill it. By the end of the novel, Queen Ann realizes that managing an army is a lot harder thank it looks and wishes herself back home. Ozma obliges.
In
Dungeons & Dragons,
moving an army across large swaths of terrain virtually guarantees an encounter with hostile flora and fauna. Maintaining army cohesion over these distances with the constant threat of random encounters will likely decimate a smaller force.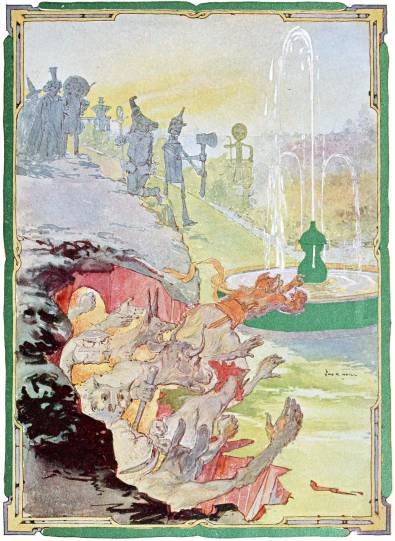 The Nome King's Army​
In
The Emerald City of Oz
,
the Nome King Ruggedo has over 15,000 nomes at his command who operate much like dwarves (miners who love gems and gold). When he loses his Magic Belt to Ozma, Ruggedo plans to take it back involve brute force tactics. He enlists the help of whimsies, phanfasms, and growley giants. The nomes burrow a tunnel under the Deadly Desert, but are foiled when they arrive near the Forbidden Fountain. Ozma uses her magic to make the invaders thirsty, who immediately drink from the Fountain, losing their will to fight. With the entire army
feebleminded
(or at least, the fiercest fighters among them), Ozma magically transports them all home.
Feebleminding
large groups of enemies isn't feasible with most D&D rules (a
wish
might do it), but a spell that makes enemies thirsty is certainly within the realm of possibility. I detail the effects of the Forbidden Fountain and the spell in
5E RPG: Oz Adventures
.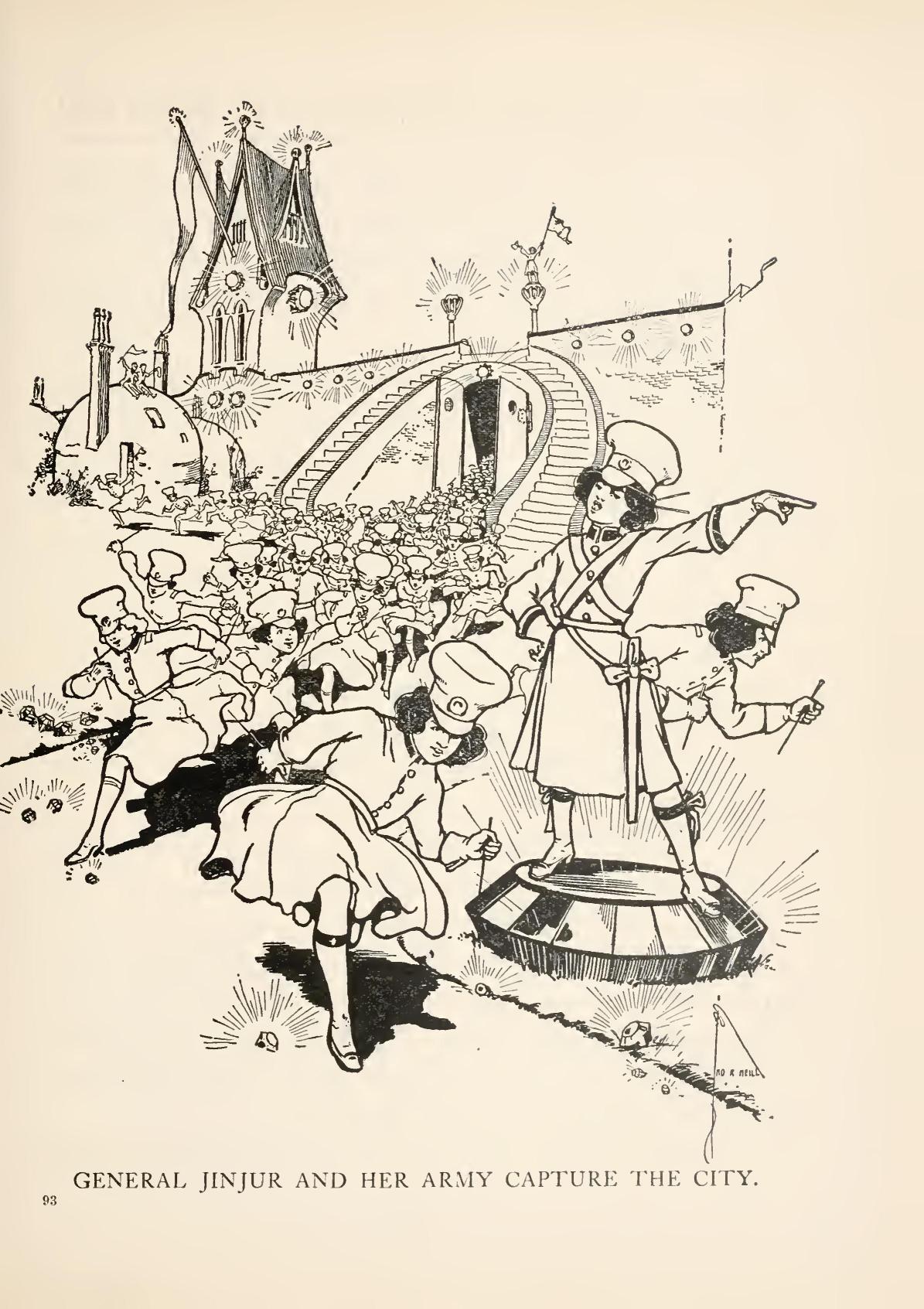 The Army of Jinjur​
It doesn't seem to occur to the Nome King that the Magic Belt he wants so badly might be used against him, but other would-be conquerors figure magic into their plans. One of the more successful is Jinjur in
The Marvelous Land of Oz
,
who raises an all-girl army in revolt after the hapless Scarecrow is placed on the throne. Jinjur's army, armed with knitting needles, easily overtakes Ozma's single soldier. But when the Scarecrow escapes, Jinjur enlists her own spellcaster, the witch Mombi, to help. Jinjur succeeds in conquering Oz. It's only due to Glinda's magic and her own army that she outwits Mombi. Jinjur's army promptly surrenders.
In most land battles in D&D, a King might have a Court Wizard as a resource for magical warfare. For more advanced societies, there may even be specific combat wizards attached to a troop to counter spellcasting invaders. When that happens, a magical reckoning between the two will likely be quick and brutal. Smart opponents hide their wizards until the last moment and use surprise to try to assassinate more powerful casters.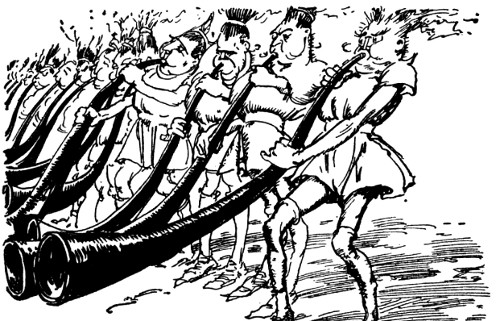 The Army of the Airlanders​
In
Ozoplaning with the Wizard of Oz
,
the Tin Woodman uses one of the Wizard of Oz's ozoplanes to conquer Stratovania. Instead, it triggers a counterinvasion. Unlike the invading armies listed above, the airlanders have aerial superiority and considerable firepowder. When they invade, the Oz citizens evacuate until Glinda and Ozma can return to expel the army. Like Jinjur, King Strutoovius technically conquers Oz, but since there's no one left in the city when his army arrives his victory is short-lived. He and his army are wished back Stratovania.
Firearms, or magical equivalents (like the blowmen's horns, or
wands of magic missile),
can tip the balance in any D&D campaign, which is why some fantasy worlds specifically prohibit them from even working (see Lew Pulsipher's "
Worlds of Design: Gun vs. Sword
"). Conversely, flight is a significant advantage, as Lew explains in
"
Worlds of Design: Death from Above
."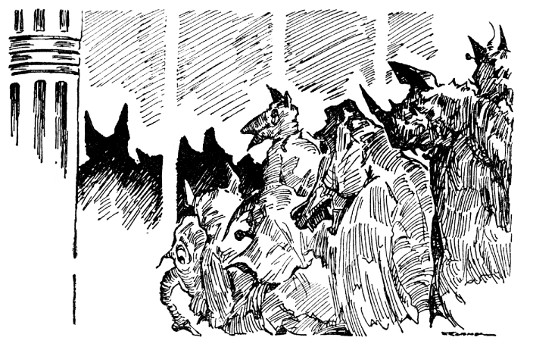 The Army of the Mimics​
The most successful army to invade Oz is made up of shapeshifters known as mimics (not quite the same as D&D mimics), who can steal a person's form by stepping into their shadow. Released from their magical imprisonment, Queen Ra and King Umb quickly take over everyone in the palace and imprison those their mimics can't impersonate. Ozma and Glinda are not present however, as they were away on fairy business. When they return, a magical showdown erupts. The mimics are immune to Ozma and Glinda's magic, but the crisis is averted only because Dorothy and the Wizard enlist the help of an additional fairy sorceress, Ozana. Ozana counters the invaders' magic and Glinda sends the mimis back to their prison inside Mount Illuso.
For armies that don't have access to high level spells, dominating or summoning other creatures might be enough. With the right shapeshifters employed as spies (doppelgangers, certain fiends), an opposing army can infiltrate the enemy and even assassinate leadership. The mimics are a double threat because they can both paralyze foes and steal their forms, but in some ways they're less dangerous than D&D doppelgangers as they can't read minds (I provide stats for these mimics in
5E Foes: Oz Bestiary
).
An army with even one doppelganger in its employ is a serious threat.
Magical Might?​
If there's one recurring theme in the various attempted invasions of Oz, it's that force alone cannot conquer a country. The overwhelming numbers of the Nome King's army and its subsequent failure is proof that military might is not enough.
Conversely, the armies that are successful in (temporarily) conquering Oz enlist magical help. In a D&D campaign, powerful spellcasters will be necessary to balance the power of the opposition. Even then, it requires the right kind of spellcaster. D&D magic focused on damage essentially acts as artillery (e.g.,
fireballs, lightning bolts
) can supplement an army's power, but to truly tip the scales, spellcasters will need other resources at their disposal that make troop movements impossible or destroy them outright. These are the realm of eighth-level and higher spells like
control weather, earthquake,
and
tsunami.
Can you beat Oz's army? Easily. But overcoming Oz's considerable magical resources will require magical resources of your own.
Your Turn: Have PCs in your campaign ever changed the course of a war with magic?
Last edited: