Now available on Drivethrurpg.com and all affiliated sites, Items and Effects cards!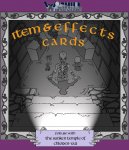 https://www.drivethrurpg.com/product/280968/Item-and-Effects-Cards-for-The-Sunken-Temple-of-ChlorenVar
This document contains 76 printable cards (with 4 blanks), offering 45 unique descriptions of items and effects experienced in the "Sunken Temple of Chloren-Var" adventure module. Designed to fit into trading card sleeves once cut, these cards offer Game Masters and Players an efficient way of keeping track of inventory and effects.
Buy "The Sunken Temple of Chloren-Var Bundle" to take advantage of additional saving. For a discounted price you will receive the adventure module, the printable cards, and combat maps.
https://www.drivethrurpg.com/product/281042/The-Sunken-Temple-of-ChlorenVar-BUNDLE