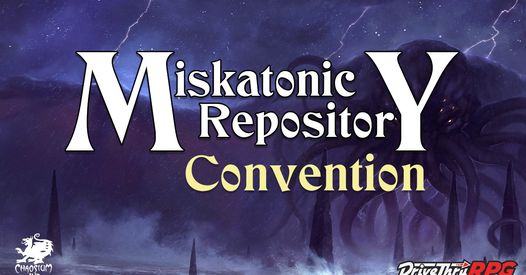 ​
Miskatonic Repository Convention
is a three-day virtual convention celebrating Chaosium's online collection of user-made content for the Call of Cthulhu tabletop roleplaying game. This year's event takes place across all time zones on
October 14-16
.
All games are Call of Cthulhu 7e scenarios; either scenarios published on the
Miskatonic Repository
or being prepared for publishing on the Miskatonic Repository, Chaosium's community content platform for independent Call of Cthulhu creators. This year promises to be better than ever, with more games, more panels, and more special guests. Best of all? It's all FREE.
Stay tuned for more information on the
Miskatonic Repository Con Facebook
page and
Discord
channel. And here's Heinrich from the Council of Shoggoths (MR Con Organising committee) to tell you more about it: