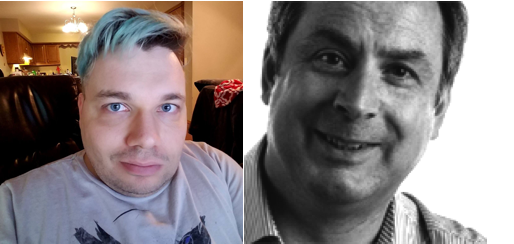 ​
We are pleased to welcome two new members to the Chaosium team:
Mike Curry
(above left) as a line editor, and
Lee Carnell
(above right) as an in-house software developer.
Mike has designed or aided in the design of card games, board games, and tabletop RPGs, mostly in the world of
7th Sea
, and was Mechanics Lead for
7th Sea 2nd Edition
. This was his first published work, winning the 2017 Gold ENNIE for 'Best Rules', and Silver ENNIEs for 'Best Game' and 'Product of the Year'. Before becoming involved in the design aspect of the industry, Mike was a host for a long-running gaming podcast with his best friend, Rob Justice, called "BearSwarm!"
Lee's first introduction to the
Call of Cthulhu RPG
was via the hardback 3rd edition he bought after reading an anthology of HPL stories borrowed from his local library. Inspired by the
Call of Cthulhu
7th Edition rules, in his spare time Lee developed
The Dhole's House
website, an 'online toolkit' for both Keepers and players of
Call of Cthulhu
where users can create and save Investigators and Keeper Handouts in a matter of minutes.
"We're delighted to have Mike and Lee join us. As his first major project, Mike will take a leading role in seeing the
7th Sea Khitai
Kickstarter project through to completion. Lee will continue improving on The Dhole's House's utility as a resource for Call of Cthulhu Keepers and players,"
said Chaosium vice president Michael O'Brien.