From our
Frequently Asked Questions
:
Q: How do I get a free PDF with my Chaosium book purchase?
A: Purchasers of physical products at
Chaosium.com
get the PDFs for free. When you add a physical book to your shopping cart, we add the PDF at no extra cost: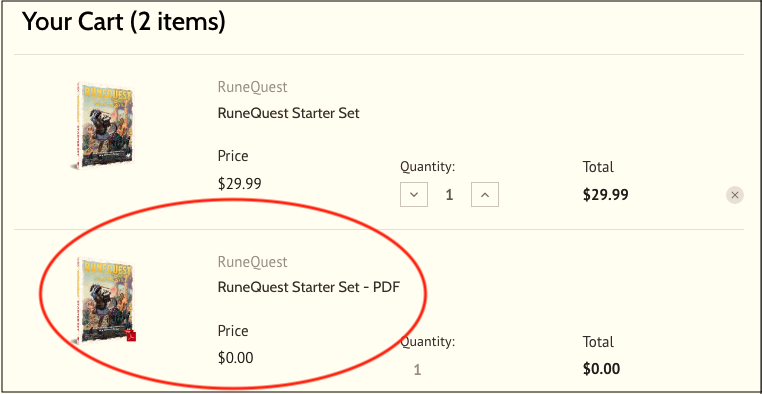 ​
Q: If I buy just the PDF from Chaosium.com and later want to upgrade to the physical product do I get the discount?
A: Yes!
If the PDF is released first, you'll get the full price of the PDF off as a discount when the print version comes out. We'll send you a coupon by email on the day the physical book is released.
If a book is already out in print/PDF and you've bought the PDF, we'll still deduct the cost of the PDF when you buy the physical book from Chaosium.com later on. Drop Dustin a note at customerservice@chaosium.com and he'll send you the discount coupon.
Q: Why is the deal where you get the price of the PDF off the cost of the physical book only for purchases at Chaosium.com? Why can't you offer that for DriveThruRPG customers too?
A: There are several reasons why this offer is only for Chaosium.com purchases:
DriveThruRPG doesn't provide us with sufficiently detailed buyer data to automate the process. This means every coupon transaction from DriveThruRPG – literally hundreds when we launch a new product – would have to be processed manually. We don't have the resources for that.
Furthermore, the revenue from a PDF sale at DriveThruRPG is significantly less than the sale of the same PDF product on our own website. This means we would either have to offer a lower discount (which would be confusing) or wear the cost of the difference (which we can't afford).
All told, unfortunately it is too difficult and would be too costly for us to offer printed book coupons for PDFs sold elsewhere.
Q: If I buy a physical book from a friendly local game store, or online seller, or Amazon, will you give me a free copy of the PDF?
A: We don't offer free PDFs for purchases made at Amazon, or other online sellers, or made at stores that are not part of
Bits and Mortar
initiative.
Q: I want to buy my Chaosium products at my Friendly Local Game Store and get the PDF included in the price.
A: Then make sure your purchase is from a FLGS that belongs to
Bits and Mortar
.
Along with many other TTRPG publishers, Chaosium is part of
Bits and Mortar
, the pro-retailer, pro-brick-and-mortar, pro-PDF initiative. This means if you buy a Chaosium physical book from any of the
hundreds of
participating local game or book stores
world-wide, you'll get the PDF included at no additional charge, direct from the store.

(If your FLGS is not part of Bits and Mortar, do ask them to
join up as a retailer
– it's free!)
Q: How do I access the PDFs I have purchased from Chaosium.com?
A: You can download a PDF immediately on purchase. Later on you can download your PDFs again at any time via your
Chaosium account
.
Last edited: