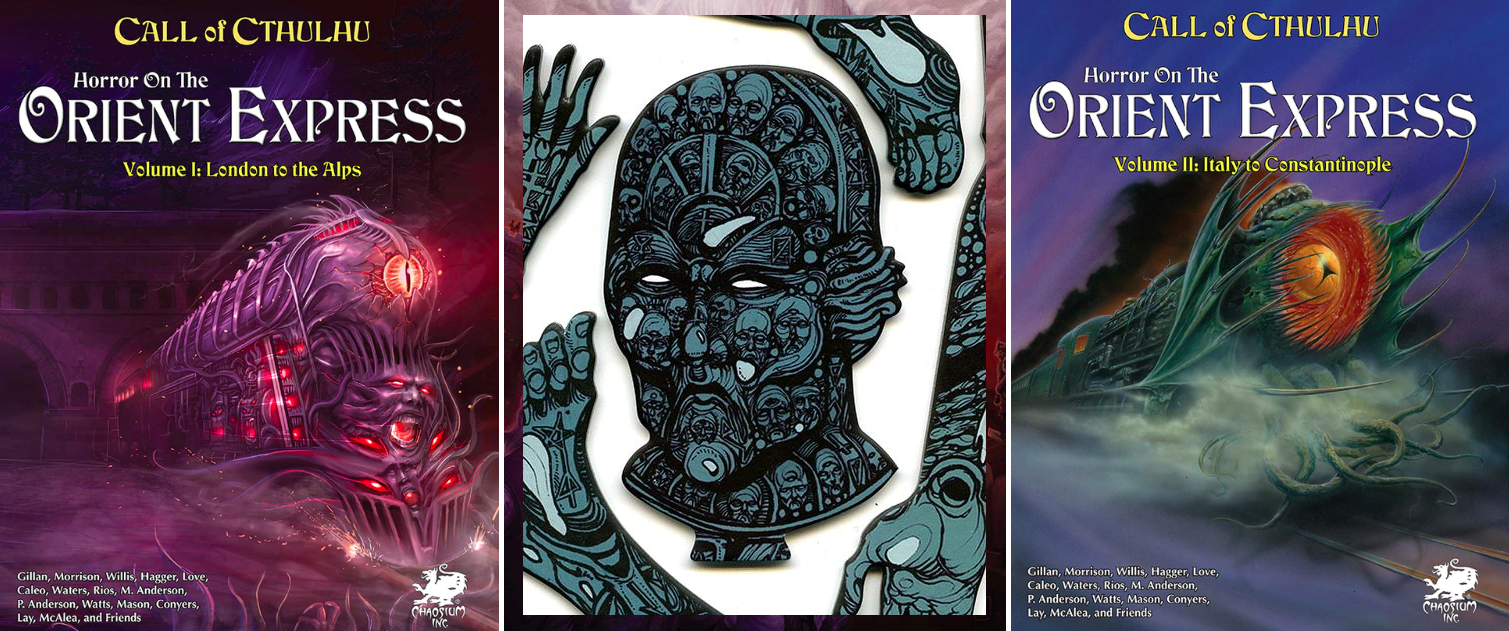 If you've recently bought our new two volume reprint of
Horror on the Orient Express
, did you know you can also get the key artefacts of the campaign?
The Sedefkar Simulacrum​
As described in
Horror on the Orient Express
, the
Sedefkar Simulacrum
appears to be ceramic. It changes color according to the strength of the light bathing it, from opalescent pastels to rich blues to inky blacks in full sunlight. All the parts are smooth and bland, with lugs and corresponding slots for the pieces to fit together. Each piece is cool to the touch.
The Mims Sahis​
The Mims Sahis is a curved blade designed for the cutting of flesh and the precise removal of skin. The jet black blade is made of stone, although what type defies all geological identification. The handle is bone and wrapped in bluish-green leather. Both were taken from an extinct marine reptile and show no sign of age, although they pre-date all human history.
Die-cut version – $10.95 $8.99
(
US Warehouse only
)
This product consists of die-cut pieces of the Sedefkar Simulacrum and a complete Mims Sahis, printed and laminated onto thick cardboard. During the play of
Horror on the Orient Express
the investigators may come upon and collect the six pieces of the Simulacrum. When assembled, the completed Simulacrum measures 20" long and 9" across. The head, arms, and legs attach to the torso via puzzle-like tabs.
The Mims Sahis is of one piece, slightly larger than life-size at 12.25".
Redbubble Version – from $8.99
(
US + everywhere else
)
Available worldwide from Chaosium's Redbubble merchanise store. The Sedefkar Simulacrum and Mims Sahis are presented on a silver halide photographic print. Archival quality paper with a choice of two finishes – luster for a fine grain pebble texture, or metallic for a glossy finish and exceptional visual interest and depth. Dimensions are from 8 x 10" (20.3 x 25.4cm) up to 20 x 25" (50.8 x 63.5cm).
Note: you will need to cut out the individual pieces of the Redbubble version with scissors.

ART BY PATRICIO CONTRERAS-TORO​
Last edited: