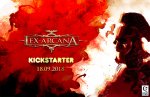 Quality Games brings back the Legendary Lex Arcana
June 19
th
, 2018 , Rome, Italy
Quality Games has partnered with the original writers to create a new edition of Lex Arcana. As the most successful Italian RPG ever, the revised and expanded edition includes work from Leo Colovini, Dario De Toffoli, Marco Maggi, and Francesco Nepitello, one of the writers of the 2018 Origins Award winner for role-playing games. This new edition will launch in multiple languages and markets, including English for the North American market.
The premise of Lex Arcana is that, through the use of magic, the Roman Empire never fell. Players take on the role of the
Cohors Auxiliaria Arcana
: the elite forces that are tasked with defending the Empire from magical threats both within and without. They can come from and travel the width of the Empire, creating sprawling campaigns for veterans and newcomers alike.
"The proposal of Quality Games was very convincing, and it came when we were actually asking if it was not the case to recover the game. These are interesting years for role-playing, and Lex Arcana has remained a very 'modern' title, from many points of view," says Francesco Nepitello.
Lex Arcana will launch on Kickstarter on September 18
th
, 2018, ensuring that this product is available to as wide of the world as possible. Advanced starter-set copies will be going out to journalists and reviewers of the industry to give newcomers the best view of this complex game and world. The mechanics of this game include the ability to swap dice on the fly, making the game accessible to all styles of gamers.