Josh Gentry - Author, Minister in Training
The encounter tables in the A5e books are not just good, they're amazing. Besides being able to generate random encounters appropriate for your environment and level (making overland travel quite nice), the tables mix a combination of encounters from all three pillars. Even individual monsters have many pre-built encounters which improve by level.
But the theme of this thread series is about challenging our fundamental assumptions about how monsters show up in our game table, with an eye toward capturing the mystique of monsters as they appear in fiction, folklore, and film.
To that end, it is my desire to create an encounter-building framework I call "ecology of gravitas." An ecology of gravitas is centered with a given creature of consequence at the top, with the creature's encounter tables based on its
real ecology
and on the party's
proximity
to it. My insights on this matter come from my reflection and analysis of three monster movies I really like:
Annihilation
,
Cloverfield
, and
The Blair Witch Project
.
Be advised that the analysis below contains spoilers for each of these movies!
Research: Annihilation
Annihilation
really could have been a DnD game! The party of badass women goes into the Danger Zone to find out Why the Danger Zone Exists, all the while finding increasingly horrific creatures and encounters. We find out the Danger Zone and all its effects do have a single origin: a meteor made from exotic matter which is contaminating the region.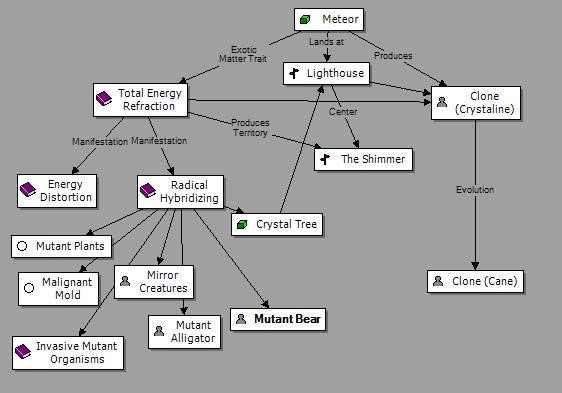 The "random encounters" in
Annihilation
are held together not only by a theme but by a single,
shared etiology
. The characters
never have conclusive answers for
the phenomena they find until the very end, but they do have enough to go on to realize
1) they are in danger
, and
2) it is within their power to find more answers.
Research: Cloverfield
Cloverfield
was the film where I learned that monsters are scarier the longer you keep them off-screen. This principle stands somewhat at odds with the TTRPG concept of the "random encounter." Typically random encounters are out in the open, and typically the main monster is something possible for the PCs to kill---neither of these are true in the case of
Cloverfield
. And that makes me excited because all too often, low-level players never get to encounter high-level creatures. Besides being a letdown, it also creates the perception that player characters are always in a safe appropriately-leveled sandbox like in
Skyrim
—and I don't think that's a helpful assumption.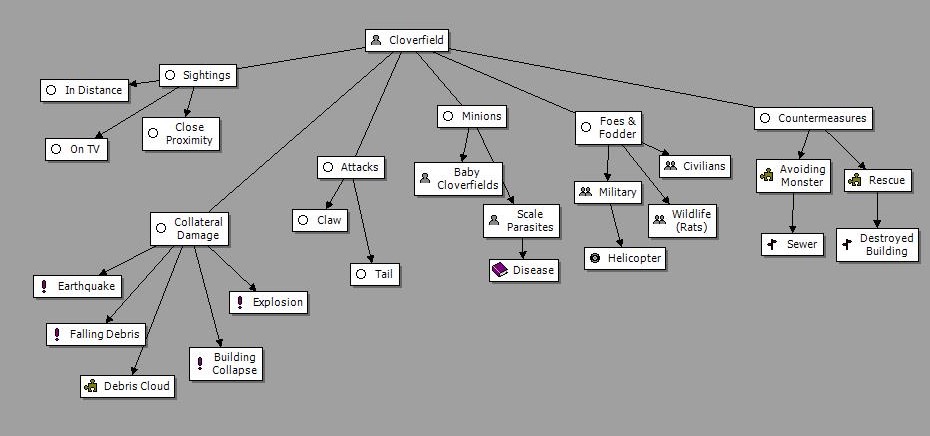 Clearly, the monster (and even most of its spawn) are big and bad enough to one-shot-KO the characters. And that's actually a great thing because the monster itself causes enough chaos in the environment to represent its own adventure.
If the players "f*** around" they will "find out"
, so wise players will just focus on their specific character's goal. Their objective will be met by the natural consequences of the creature being in the environment, and "appropriate encounters" will represent the PCs' and NPCs' attempts at survival. Note how all the creature's
"collateral damage" are basically the premise of exploration challenges
or hazards.
Research: Blair Witch
The witch I think is one of my favorite fairytale monsters that are just done so dirty in TTRPGs. The witch appears, she's green, she snarls. Also its not a witch its a hag. Ooops now I'm losing interest…
The Blair Witch Project
stays with me because of how it addresses the matter of monstrous territory. The entire tragedy of the story was avoidable had the characters not ventured so horrendously into the witch's woods.
Something that is apparent to me is how much the matter of proximity to the witch comes into play. The surrounding village, though outside the witch's territory per se, is still wary of the witch and
traumatized from a 300-year history of mutual harm
. As the characters enter the woods, even though we never see the witch on screen, her presence is still felt when as her harassment and terrorism escalate. Creepy noises outside the hut aren't enough, she puts rock piles and creepy wooden figurines all around to prove she was there…
At the game table, it makes me wonder if this traumatized village might also see creatures afoot and out of (well-placed) superstition consider them to be familiars.
What if the entire woods is considered the hag's lair
, and offers her lair actions specialized for spying and harassment? What if she can
see out from the rock piles
, and
cast vicious mockery out from the stick figurines
?
Proof of Concept: The A5E Vampire
Having mapped the relationships between the monsters in some films, I wanted to see how this approach would work on monsters based on their express lore in the
MoMe
. Suffice it to say I am not displeased.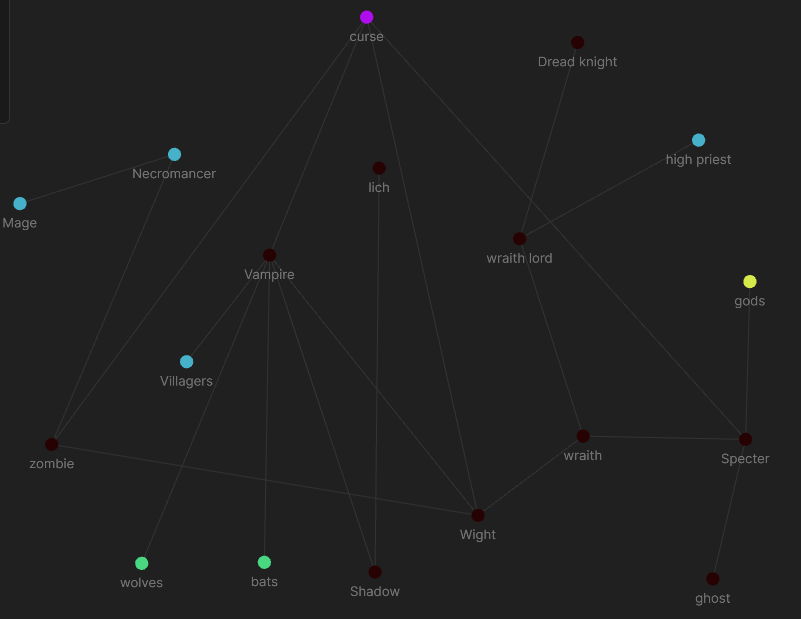 As you can well imagine, this chart is not yet done. If I were better at Obsidian.md (I just downloaded it today), I would try to characterize the connections visually so we could tell the relational and power dynamics at a glance. Still, we can begin to glean some interesting relationships just by looking. There are tons of undead that all just blur together for me, so it's
neat to see some of the relationships more clearly
, especially the fact that some creatures are specifically under a
curse
. That makes a storyline about curses much more versatile!
Mini-Tool: Real Ecology Analysis
Most of the time when we talk about the "Ecology of" a given monster, we aren't actually talking ecology–we're just providing a basic description of what the monster is and where it lives. And that's an important question, but what we really want to unpack is the creature's vast web of relationships. Questions like "what does it eat" and "how does it reproduce" are questions safe and basic enough for children's books, but somehow those questions tend to get skipped in monster lore!
So to help develop that information, I developed a questionnaire for use with a given monster to help Narrators better situate that monster in-world.
NAME

Tags
Creature type, traits, misc.

Lifestyle
Home: ---
Motivations: ---
Food: ---
Reproduction: ---
Other Needs: --
Strategies: ---
Weaknesses: ---

Relations
Boss: ---
Kin: ---
Allies: ---
Subordinates: ---
Foes: ---
Fodder: ---

Sightings
Impacts: ---
Reports: ---
Omens: ---
Signs: ---
And this is how I filled all that information for vampires.
This tool is still in development, so keep that in mind. Some terms aren't as appropriate to some monsters as others. Still, this approach has changed how I look at creatures in my books. (I'm excited to tell you all about which creatures burrow, which eat rock, which eat gems and metals, and
which ones can't
! )
Mini-Tool: Theory of Proximity
This tool is definitely still in development, but I am still much proud of it! Using this theory, we can begin to lay out encounter generation tables for a given monster based on proximity (and its real ecology). We rate threatening proximity to a monster on a scale of 1-5. At 1, the existence of a monster is tentative, shrouded in rumor. At 5, you're probably rolling initiative.
1. Rumor
Word of this entity is spread among the people; mix of falsehood and reality
Knowledge checks used to debunk rumors or confirm plausibility
Authoritative knowledge of monsters by common folk is rare
2. Influence
The zone where the creature's reality is felt, even at a distance
Ambiguous but disturbing signs and encounters with subordinates
Players can begin to develop concrete list of suspects re: monsters' identity (see previous thread on knowledge rolls)
3. Territory
Creature's active hunting ground. Avoided by all but the creature's servants
The creature can learn about, stalk, and terrorize trespassers
Lair Actions appropriate for large territory (alarm spell, scrying, long-range cantrips)
4. Presence
The immediate impact of being nearby the creature, even if it is unaware
Collateral damage, auras
Last chance to hide
5. Direct Encounter
The creature is aware of your presence
Flee, negotiate, or fight
Clearly, the theory of proximity still needs polish, but even at this stage, it does a lot of work. It helps me to frame what exactly an encounter with a monster can be.
So yes, these are just some thoughts I've had recently on overhauling monsters in my own mind. It definitely has made reading monster lore much more interesting to me, and I hope these kinds of encounters fill my players with dread and wonder. PEACH, and let me know what you think!