Welcome to the Bundles, Freebies, and Sales News, the weekly column at EN World that helps make sure you don't miss out on big tabletop RPG bundles, charity fundraisers, and sales from around the internet.
Freebies and Pay What You Want
Pig Faced Games released Peasants & Pitchforks
, an OSR roleplaying game with an emphasis on imagination and speed of play. The 64-page PDF comes with three introductory adventures, 31 monsters, and full rules to play a want-to-be hero in a world of magic, monsters, and adventure.
For the
Savage Worlds
fans out there,
Knight Errant Media released a free jumpstart edition of Titan Effect
, a tactical espionage science fiction setting with psionics. This preview quickstart includes an introduction to the world, specific rules for the setting, a short adventure, and five pre-generated characters.
Brad Zimmerman posted
the new generic roleplaying system d12GO using a simple task resolution mechanic relying on just 1d12
. The full system takes up just 20 pages and features character creation rules, GM random tables to help improvisation, and guidance for fitting the system into multiple genres and styles.
Price: Pay What You Want (Suggested: $1.00)
Heading into the
World of Darkness
,
Alratan has the new book In Darker Ages with guidance for playing Vampire: The Masquerade 5th Edition in earlier time periods
. The book assists in retheming and balancing Skills and Advantages, updating Clan Banes for the appropriate time period for several Clans, weapons suitable for a different era, and advice on handling the Sea of Time and thin-blooded vampires.
Price: Pay What You Want (Suggested: $3.23)
And for something a bit more contemporary,
Faraz Quaraishi brings us Loresheets by Night: New York City with five new loresheets for Vampire: The Masquerade 5th Edition
. The loresheets cover three figures from New York City – Thomas Arturo (Toreador Heald), Qadir al-Asmai (Toreador Sheriff), Robert Larson (Thinblood Primogen) – along with two organizations – The Chantry of the Fire Boroughs and the Anarch State of Mind.
Price: Pay What You Want (Suggested: $2.00)
Over on the Dungeonmasters Guild,
Michael Junker has In the Wake of Decay, an adventure on the open seas
pitting the party of 7th-10th level against a mythical ghost ship to prevent the destruction of the coast.
Price: Pay What You Want (Suggested: $3.00)
If the weapon-based classes of your group are looking for more options,
then Advanced Weapons and Armor by Magnus Hamann is here
to provide new rules for martial combat and two-weapon fighting, new fighting styles, and new properties for weapons and armor.
Price: Pay What You Want (Suggested: $1.00)
Bundles and Sales
D&D Beyond has launched its
spring sale with 20% off all sourcebooks, adventure books, premium dice sets, and dice packs in the marketplace
. While this doesn't cover bundles which are already discounted, it does apply to pre-orders. So those of you looking to get your hands on
Journeys Through the Radiant Citadel
,
Mordenkainen Presents: Monsters of the Multiverse
, or the highly anticipated
Spelljammer: Adventures in Space
can pre-order with a nice discount.
Price: Varies (20% off select products)
End Date: May 1, 2022
The Dungemasters Guild is running
their Best of Print sale featuring 10% off a selection of their best print titles
. The sale includes 100 different titles from new books like
Minsc and Boo's Journal of Villainy
,
Thay Land of the Red Wizards
, and
Exploring Eberron
as well as classic titles like
N1 Against the Cult of the Reptile God
for
AD&D 1st Edition
,
Red Hand of Doom
for
D&D 3rd Edition,
and
Planescape Campaign Setting
for
AD&D 2nd Edition
.
Price: Varies (10% off selected products)
End Date: May 2, 2022
The Melodies & Magic Bundle collects over twenty-five different supplements for Bards to add more music to your games
. There are plenty of new Colleges to add more subclasses to the Bard, but there are also several adventures focused on music, theater, and performance as well as an entire musical-focused campaign taking place in the Feywild.
Heading back over to
the World of Darkness, the Once Upon a Time in France… bundle from Florent Martin
collects three different books to help you run a campaign in Paris.
Paris by Night
provides information for the city while
Family Business
and
Tzimisce Heart
are scenarios for you to run in the City of Lights.
PenguinComics gives us
the Generic Adventures bundle, a collection of six different adventures in different settings that are system-neutral
and ready to use for any game you like. Included are the circus-horror
Freak Show,
the supernatural pirate
Ghost Ship,
the retro nostalgic real-world
Pinball 1977,
the deep sea fantasy or contemporary
Secret of the Sea
, the fantasy
The Dragon
, and the post-apocalyptic
Zone Chasers
.
For fans of the sci-fi horror
Mothership
, Earl of Fife Games has not one but two different bundles.
The Xeno-Horror Bundle features fifteen adventures with terrifying alien encounters
, while the
Blue Collar Sci-Fi Bundle has another fifteen adventures about economic horror and corporate brutality in deep space
.
Price: $45.42 for Xeno-Horror (44% off), $37.12 for Blue Collar (36% off)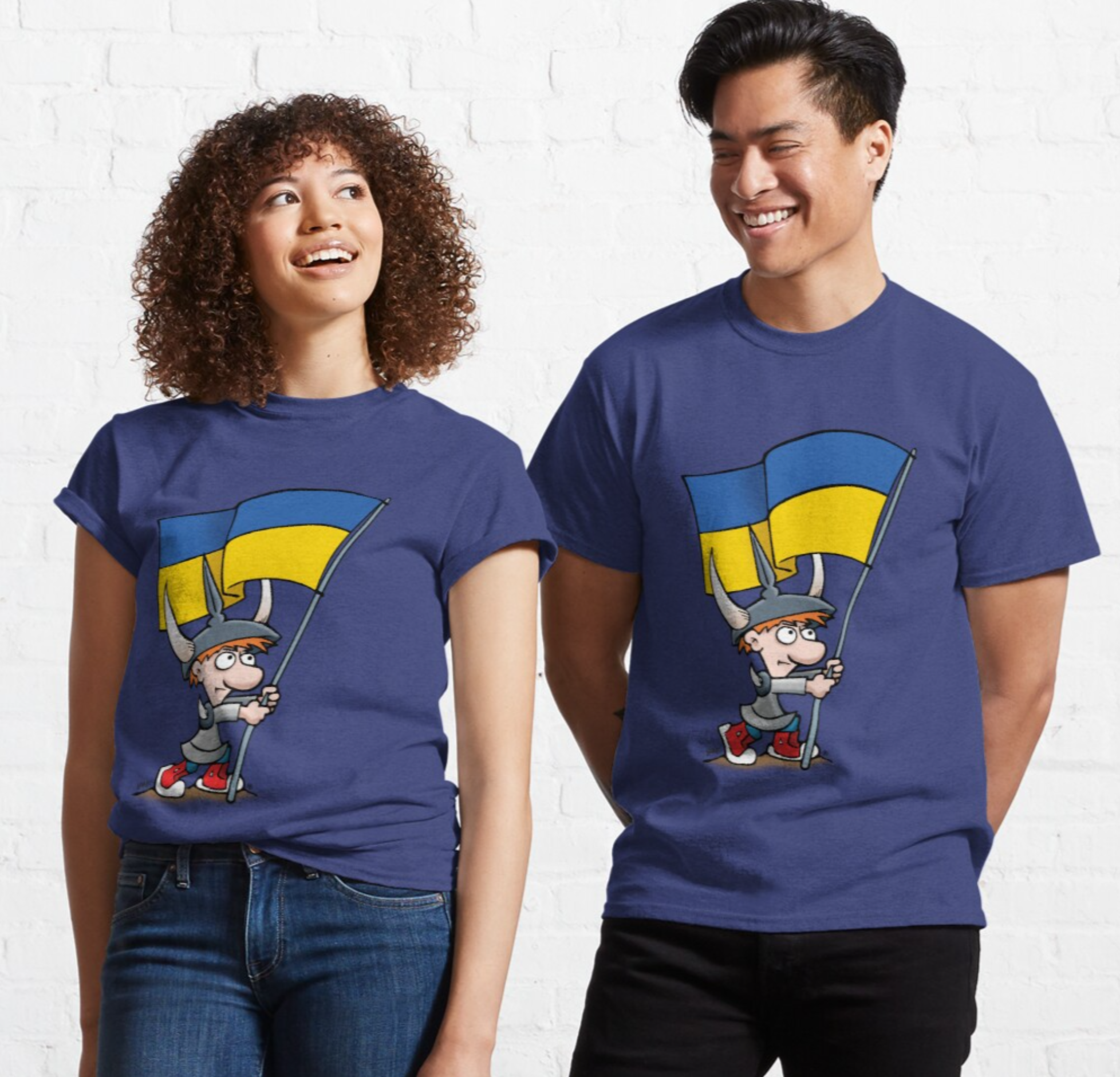 Charity Bundles and Sales
Steve Jackson Games is offering
a t-shirt featuring art from Munchkin and Dork Tower artist John Kovalic of one of the iconic Munchkin characters holding the flag of Ukraine
. The shirt is available in over a dozen different fabric colors with the print on your choice of the front or the back and sizes ranging from Small to 5XL. Just make sure to get it from the official Steve Jackson Games RedBubble store as
SJG reports many bootlegs showing up across the internet
(in fact, two copies of the design showed up on RedBubble under "Similar designs" in the store page).
Price: $25.00
End Date: May 2022
Charity: World Central Kitchen (100% of profits)
On Bundle of Holding,
the Hostile Bundle gives you everything you need for deep-space horror using the Cepheus Engine
from Zozer Games inspired by
Classic Traveller
. The retro-future setting of the game is inspired by movies like
Outland, Blade Runner,
and
Alien
featuring claustrophobic space freighters and brutal industrial colonies. The base level includes the core rules, a referee screen, and the weapons guide
Gunlocker
. The Level-Up price adds on three guides to survival on hostile worlds, two bestiaries, two hardware and vehicle guides, and a campaign framework "well described by its title:
Crew Expendable
".
Price: $9.95 (78% off) with variable cost Level-Up option
End Date: May 5, 2022
Charity: Direct Relief (10%)
And still on the Bundle of Holding is
the Old-School Treasures bundle featuring recent books for Old-School Essentials
. The bundle includes the
Old-School Essentials Rules Tome
featuring the core rules of this OSR version of the B/X rules, three rules supplements from Third Kingdom Games, and the
Old-School Essentials Referee Screen
, while the Level-Up option adds a collection of four adventures and four issues of two different zines with sandbox settings, maps, tables, scenarios, and more.
Price: $9.95 (83% off) with variable cost Level-Up option
End Date: May 2, 2022
Charity: Direct Relief (10%)
Extended for a few more days is
the collection from Sly Flourish aka Mike Shea featuring The Lazy Dungeon Master, Return of the Lazy DM, The Lazy DM's Workbook, and Sly Flourish's DM Tips
. The books are full of advice, tools, and exercises to reduce the stress of running a game by focusing on improvisation and making the best use of prep time. The Level-Up option adds four more books including
Fantastic Lairs – 23 Boss Battles, Fantastic Adventures
, and
Fantastic Locations
to help speed along prep time with drop-in tools plus the 5e adventure
Ruins of the Grendleroot
.
Price: $5.96 (73% off) with variable cost Level-Up option
End Date: April 27, 2022
Charity: Direct Relief (10%)
Modiphius has two bundles ending very soon for
Conan: Adventures in an Age Undreamed Of.
The Conan Essentials bundle features the core rules, Conan Gamemaster Toolkit, and Conan Map Pack
plus a Level-Up option adding four more setting books and adventures.
The Conan Careers book for players features books with more character options
including
Conan the Adventurer, Conan the Wanderer,
and the artbook
Art of Conan
with a Level-Up option for
Conan Exiles Sourcebook
with options from the video game and four more character option books.
Price: $9.95 for each bundle (74-78% off) with variable cost Level-Up option
End Date: April 25, 2022
Charity: RollVsEvil (10%)
The Black Library has partnered with Humble Bundle for
the Tales of the Space Marine Chapters Bundle set in the world of Warhammer 40,000
. The bundle comes with three levels, the $1 level giving 6 ebooks, the $10 features eight more books for a total of 14, and the top tier of $18 has everything from the prior level plus ten more books for a grand total of 24 novels.
Price: $1/$10/$18 (94% off at the top tier)
End Date: May 5, 2022
Charity: EveryLibrary Institute (user-defined, default 5%)
That's all for this week! This is still an experiment so if you have any feedback, please leave a comment. If you know of any bundles or sales starting soon, please
contact me on the EN World Discord
or
send me a message here on EN World
.
Discount percentages have been rounded to the nearest whole number and are based on the standard retail price provided by the site. Note: Links to Amazon, Humble Store, Humble Bundle, and/or DriveThru may contain affiliate links with the proceeds going to the author of this column.