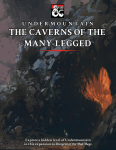 Hi everyone. My second D&D 5e adventure on the DMs Guild is now out! This one is a hidden mini-level for that can be added to Dungeon of the Mad Mage. It's 27 pages and is $1.95. Hope you enjoy it!
https://www.dmsguild.com/product/26...averns-of-the-ManyLegged?affiliate_id=1043323
Description:
In a hidden part of Undermountain, former slaves feed their fat, monstrous queen who is fixated on revenge. A broken drow house has finally found a place to call home – only to become abominations. And a massive beast slithers, hunting for anything to satiate its hunger and quell its madness. Welcome to the Caverns of the Many-Legged. This adventure is for characters from levels 12-13.