Swords against tentacles!
In Belthaar, city of dark alleys, strange cults, and rival sorcerers, a threat rises from beyond the grave!

Can you solve the mystery of the Necromancer's Knife before it is too late?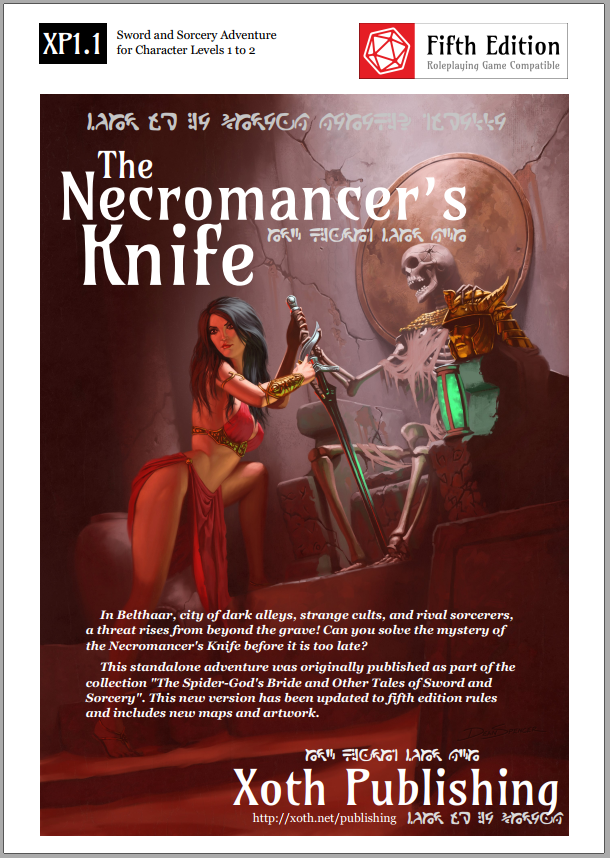 "The Necromancer's Knife"
is a stand-alone sword and sorcery adventure module for character levels 1-2, written for the
Fifth Edition
of the world's most popular roleplaying game and usable with any fantasy roleplaying game ruleset or edition.
Note:
This standalone adventure was originally published as part of the collection "The Spider-God's Bride and Other Tales of Sword and Sorcery" (XP1). This new version has been updated to fifth edition rules and includes new maps and artwork.
The book is available both as a PDF and (soon) in print. Check out this page for more information:
Also available for FREE download via the above link is the 72-page
Player's Guide to the World of Xoth for 5E
which contains a wealth of new material for swords and sorcery gaming, including new races, cultures, classes, equipment, and spells.
"The Necromancer's Knife"
is also available on DriveThruRPG:
The Necromancer's Knife - An Undying Evil In Belthaar, city of dark alleys, strange cults, and rival sorcerers, a threat rises from beyond the gr
www.drivethrurpg.com
- thulsa