So I was prepping an old 1E module for use in my 5e campaign. As far as I'm concerned 1E modules and
Dungeon
of the 1E/2E era are still
the best
adventures for D&D ever made - but with the caveat that the only 5E modules I've run are ones that were converted from 1E and other editions in
Ghosts of Saltmarsh
and I never played or read any 4E modules (I was so turned off by 2E and 3E pre-packaged modules I just never looked beyond them). Anyway, I found this note early on in the module I was prepping: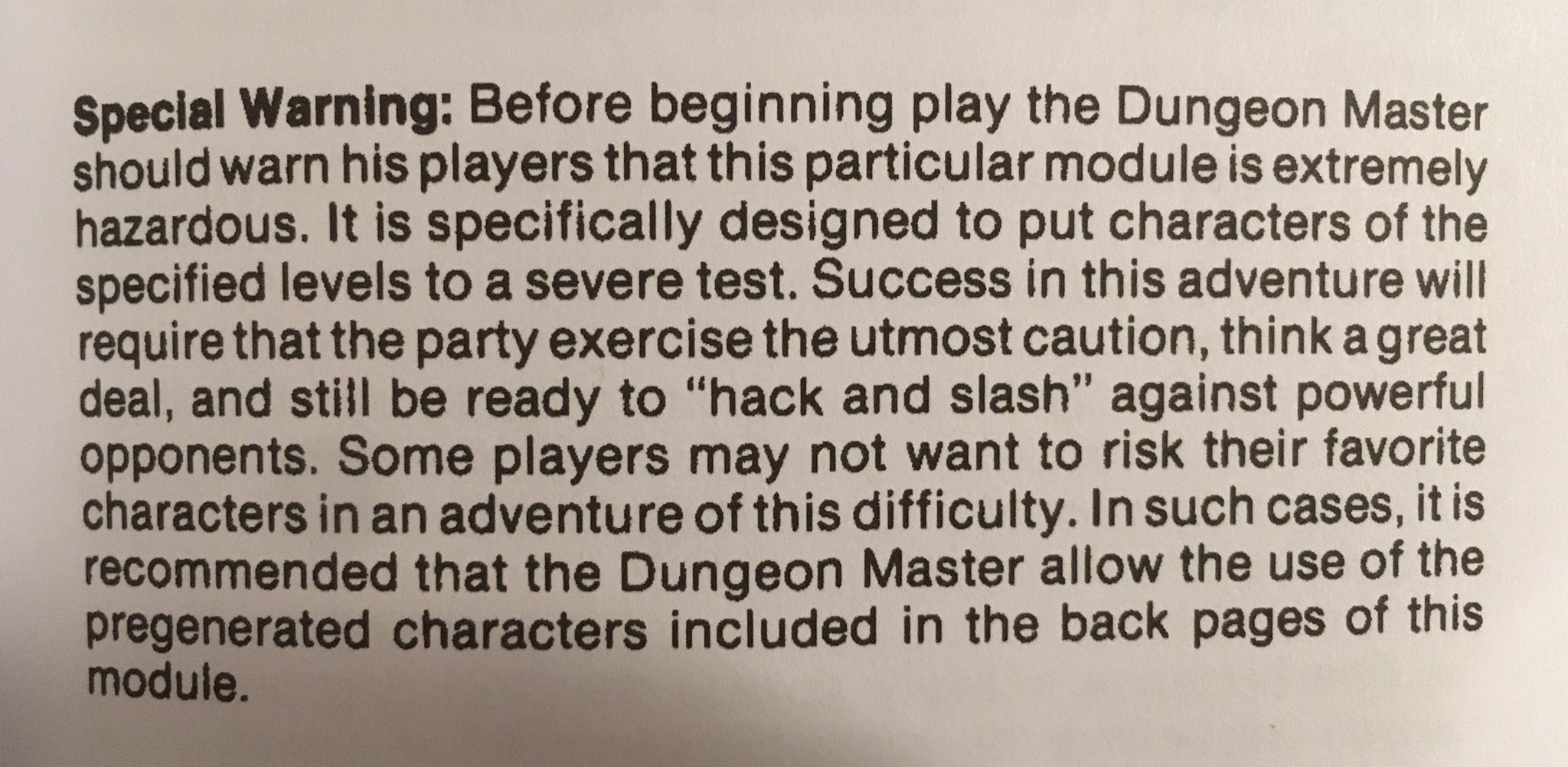 The warning made me laugh because it was so indicative of an old playstyle and because I could not imagine my players asking to play a different character for an adventure b/c they were afraid of their character dying (even if I would allow such a switch- which I probably wouldn't). I did send them the above screenshot to get them a little nervous though!
It did make me wonder about people's design philosophy when it comes to choosing, adapting, or writing adventures for their home games. Personally what I like about 1E modules is that they tend to be big and sandbox-y providing me a framework for establishing my own stakes and making the elements fit in my own setting. I honestly don't think I've ever run an adventure as written - so I guess one of the qualities I look for is adaptability.
What I love about
Dungeon
magazine adventures (esp. of the early to mid-90s) are the wonderfully inventive sites they provide, the interesting and detailed NPCs, the non-standard plots a lot of them have (ironically, for a while
Dungeon
magazine seemed to eschew actual dungeons), and the differences in style and tone among them (including a lot of "dark fairytale" feel adventures, which I really like). When it comes to Dungeon I am the master at cutting and pasting elements from different adventures together.
So what is your take on making use of pre-written adventures or for writing (re-writing) your own? What is your take on determining difficulty and for purposefully designing adventures that challenge in the way the warning above suggests? I know there is vocal presence of people on these boards who find 5E D&D not deadly or tactical enough (I disagree wholeheartedly, but
) or that the CR system is broken (I don't have an opinion since I barely look at CR), so my guess is there will be people commenting to say that 5E
can't
be made to foster that feeling of fear, but that's fine. If your philosophy is just not run 5E or change it dramatically, just tell us about how you do make use of adventure material to foster the game you like. (This thread is not limited to 5E as the tag suggests).
Oh and if anyone is curious, I don't think the adventure this warning is from is REALLY all that dangerous. . . but I need to finish reading it through and begin the actual conversion.
If I had to boil it down to a one sentence philosophy: I like modules with a capacious plot that provide a site for non-linear engagement with interesting NPCs and more straightforward set-pieces to explore and/or have interesting battles using the environment.