An Ambush!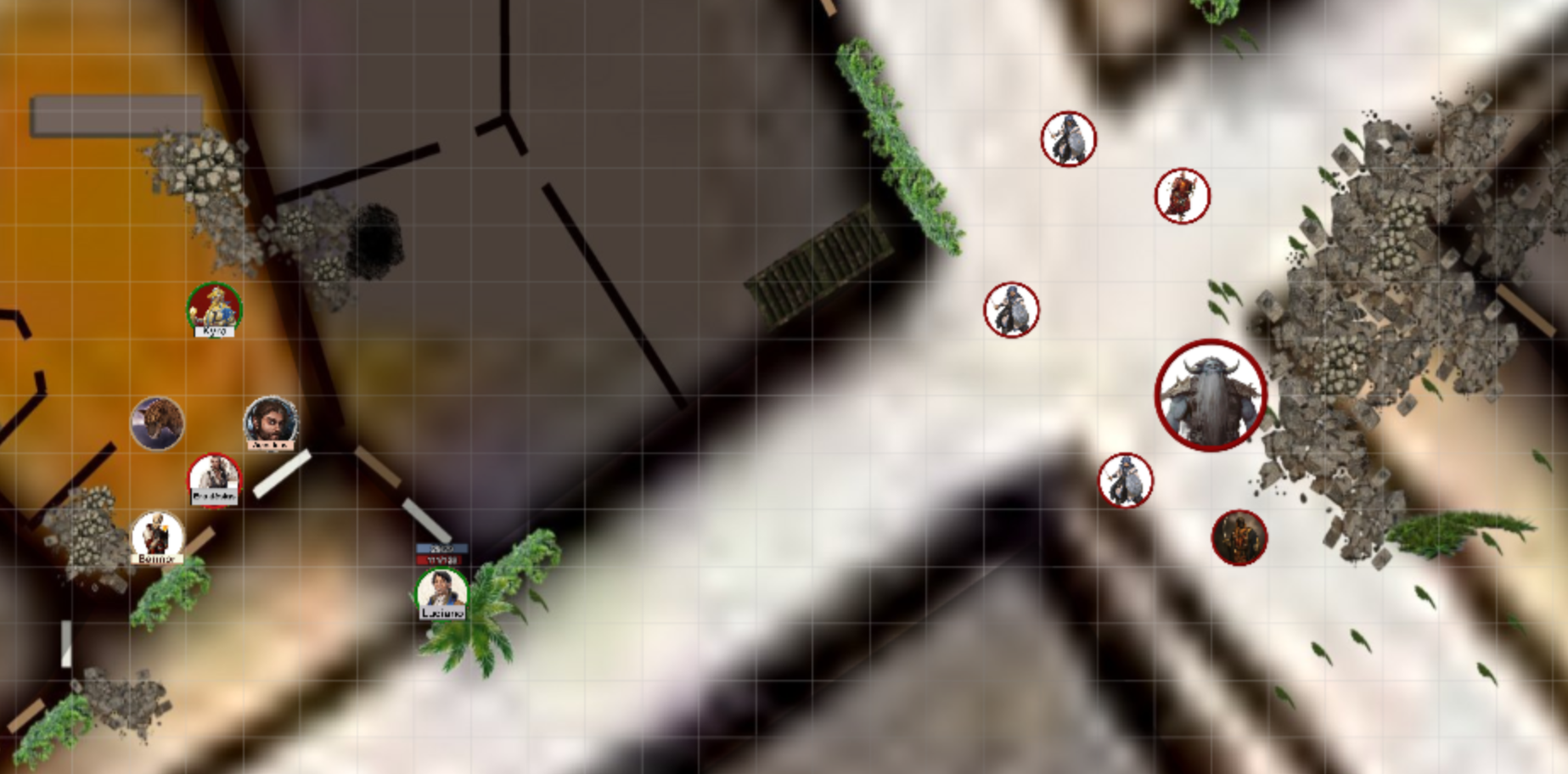 Last week, we played session 51 of "Pirates and Plunder", although it's turned more into an H Rider Haggard adventure than a pirate-themed adventure, for the last 30 or so sessions. The PCs have reached 11th level, and as DM I'm finding it harder and harder to really challenge them. Most of their foes are now humans and humanoids of around their level, and when I introduce monsters, I very often have to raise their level a notch or two.
In this latest session, 5 PCs (rogue, fighter, wizard, druid and cleric) faced off against a 12th-level fiendish giant, a 10th-level wizard and 4 7th-level mercenaries, with a couple 7th-level archers on top of a tower 300' to the north, and a 10th-level Vrock demon that flew in around round 6. Or I should say 4 PCs, because at the last minute the cleric couldn't come. We play on Roll20, and the players have their PCs fully configured so they can do strikes, spells and skill rolls at the click of a button, but as DM I keep all the monster stats on paper and do physical die rolls rather than spend countless hours entering critter stat blocks into the roll20 interface. It works great this way, and keeps my DM prep overhead to a minimum, very close to what I would do if I were running a face-to-face tabletop session. COVID oblige, there's no telling when we'll be able to return to the tabletop. But playing on VTT has another hidden advantage: we're able to play nearly every week, whereas we were lucky to get in one session a month in tabletop sessions.
This group of adversaries represents about 1/6th of the Aspis Consortium expedition to the ruined Azlanti city of Saventh-Yhi. They have become the prime adversaries as the PCs try to continue their explorations and reactivate the seven "spears" of the city. Yes, it's a PF2 adaptation of the 10-year old Paizo AP, Serpent's Skull.
It was a good session. At one point, the druid was down to Dying 3 and the fighter and rogue were down to a dozen hitpoints or so. It seems like the players get the most enjoyment out of sessions that are close calls - they feel like they are really risking their lives, but manage to come out victorious in the end. After the fiendish giant and the vrock were taken down, the PCs fled through the ruins so as to avoid the full strength of the Aspis agents, and found themselves pursued by wiley chameleon-like Kech (a sort of man-sized anthropophagous ape-men that can blend into their surroundings), but they managed to excape these foes as well, hiding out in an abandoned wizard's lab they'd half-explored some dozen sessions before.
So, about the game itself. Despite having reached 11th level, with all the attendant feats, spells and so on, combats run quite smoothly. I tend to use a larger number of lower-level foes than published PF2 APs. I have started using more level +2 and level +3 foes, but have not yet graduated to any level +4 foes, as the Designing Creatures guidelines suggest.
Concerning magic items, I have been handing out a selected few items 2 or 3 levels early, whereas the PF2 guidelines suggest never giving out loot more than one level above the PCs' current level. IMHO many items have an artificially inflated item level, and being a little over-generous as a DM halps correct this problem.
Concerning fliddly game mechanics like using Medicine for healing, we deal with that in two ways:
1) If the players are in the middle of a session, after a combat, I let them manage their healing rolls while I take a short break from the computer, and when I come back, they can tell me how many 10-minute blocks they needed to heal up. Works fine, since they've figured out how to manage that without input from me.
2) If it's at the end of the session, or if the PCs are in a position to easily return to a safe place and rest for the night, we will hand-wave the healing rolls, since the only variable is how many ten-minute blocks it takes to heal up. This certainly helps speed things up at the (virtual) table, and lets us get back to the serious business of adventuring all the quicker.
I have to say that all the players seem to be enjoying the game immensely. The spellcasters love the power of their spells, and regularly use blasting spells like fireball, lightning bolt, magic missile, hydraulic push or disintegrate, very often raised to a higher level. They also get extensive use out of buff and exploration spells, and even got off a couple highly appropriate banishment spells (against fiends) and regularly use invisibility and negate aroma to avoid foes or prepare ambushes. The fighter really loves the inherent combat power that his class grants him, and we really see the difference on the few sessions when he's unable to join us. The rogue has things fine-tuned to frequently get his foes flat-footed, and has been a top-notch combattant throughout. The druid, and to a lesser extent the cleric, both wade into combat fairly frequently, and although their strikes aren't nearly as powerful as those of the fighter, they still get the job done.
All in all, PF2 has really been working out for us. We played DD3.5 for years, eventually switching to PF1 about 6 years into its run, but PF2 has really simplified things for us, especially now that the PCs are reaching mid to high levels. Far easier to prepare and run for the DM, and it feels better from the PC side as well.