New Adventure - Space Blood: Rescue!​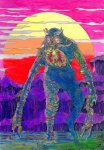 ​
Old Kickstarter Thread:
http://www.enworld.org/forum/showth...ckwind-Project-A-new-plot-driven-tabletop-RPG
Hello-hello! The Blackwind Project is alive and kicking, and this thread will be used to disclose major
updates, releases, and news.
Starting with a bang, we are glad to announce that Blackwind is now available on
DTRPG
, both in pdf and hardcover.
Tomorrow
we are going to release the second episode of our legacy free adventure,
"Arena"
, as well as
shareable discount codes for the new adventure and the Core Rulebook (valid until November 24th)
through our mailing list. You may find it
here
, together with the new website.


Adventure Pitch: A distress signal from outer space, a primordial planet, imperial assassins hot on your trail: what could possibly go wrong?


Just another day in the border patrol is about to turn into a living nightmare: your ship receives a distress call from the MADDELLINN SIRI I, forced to an emergency landing on the hostile planet Y10-REGULUS 4. The odds of survival are few, the stakes high, and time is already running out. Adventure calls - will you answer?


Plot Structure: Bead String Plot
Genre: Space Opera
Plot Type: Journey
Estimate Gameplay Length: 2-4 hours​