The advent of blockchain technology has effectively given the intangible real, permanent value. When it comes to fantasy games largely relegated to the imaginary realm, blockchain technology could now ensure your character's +3 sword is truly unique...and could even be sold to someone else.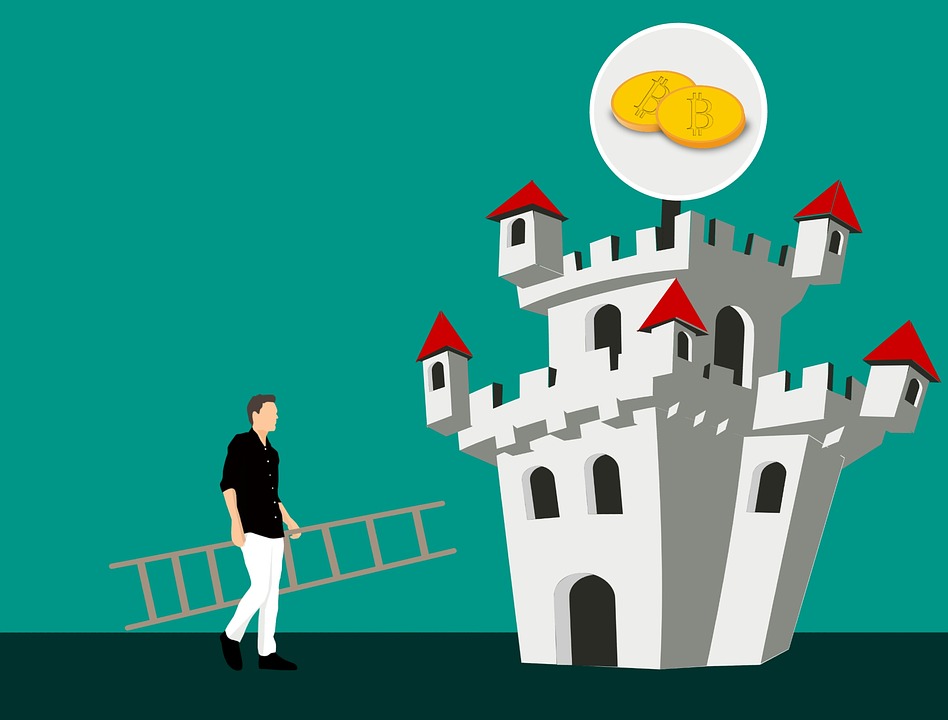 Image courtesy of
Pixabay
.​
Meet Blockchain​
Blockchain has become a popular term because it backs digital currency like Bitcoin and Ethereum, but the potential applications of blockchain technology to other areas of gaming are enormous.
Wikipedia explains the basics
:
​
A blockchain is a decentralized, distributed and public digital ledger that is used to record transactions across many computers so that any involved record cannot be altered retroactively, without the alteration of all subsequent blocks.
Essentially, blockchain technology creates permanency in the fluid world of digital where anything can be modified or hacked. Blockchain provides a layer of stability, like real life currency, that ensures it has an existence independence of one single computer or even one authority managing and monitoring it. Blockchain's cryptography (currently) requires massive computer resources to create, which in turn reinforces its scarcity -- the effort to hack a blockchain likely outweighs its potential value.
The idea of digital currency having value is not foreign to gamers. Digital currency in Massive Multi-player Online Role-Playing Games (MMORPGs) have been around for some time, and players can often purchase the in-game fantasy currency with real money. This in turn has led to some strange comparisons, where an official World of Warcraft token is worth $20 or over 200K in virtual gold --
which in March of 2018 was seven times the value of Venezuela's bolivar
.
But why make a game that converts currency when you could just build it on blockchain technology to being with? One game did, and it all started with cats.
Meow?​
Cryptokitties took blockchain technology to its logical conclusion in the world of adopting digital pets. If a cat could be created with blockchain technology, that digital feline would be utterly unique -- the only one in existence, as identified by its tag. Blockchain also gives those pets longevity --
the kitties exist as tradeable objects
. In fact, the Cryptokitty game was built on the idea of breeding cats, with each specimen capable of siring a new kitten, that can in turn be sold with creator AxiomZen taking a cut.
It worked. One cat was worth over $100K at the time of sale (it's now worth $300K).
It worked too well
:
​
At one time back in December, the CryptoKitties smart contract took up nearly thirty percent of the total transaction count on the Ethereum blockchain. The network started to clearly show its scaling issue as transactions began backing up daily (at one point reaching almost 30,000 transactions).
Cryptokitty demonstrated that permanency has long-reaching effects for the value of a virtual object, and even a virtual being. Which is where RPGs come into the picture.
Mining a Different Kind of Block​
To date, most gaming efforts have been around making the player (and the game) money by mining more cryptocurrency. One such game that's trying a different dynamic is
Huntercoin
:
​
...a hybrid cryptocurrency/decentralized MMORPG that was released to the public in February 2014 by hobbyist developers, and which continues to generate low-level cultish buzz due to its unique dynamics. What distinguishes it is that it provides the first ever example of 'human mining,' in that players mine its currency (HUC) by travelling across the massively multiplayer online (MMO) game world and finding it. It also provides the first example of a truly decentralized game server, with the developers unable to influence the game's unfolding except by changing the underlying code.
Building on the appeal of games like Minecraft,
Ethercraft launched in January of 2018
:
​
Our initial launch will consist of disseminating 60 unique items to players, many of which will be available completely free of charge, rolled out in waves of eight to ten items at a time over the following hours. Players will be able to purchase (or acquire for free) these items as soon as the client goes live which will be announced here on Medium and via social media (links below).
Of significant note was how gold and items work, which is to say that they have permanence, value, and can be sold or traded. Conversely, characters who die lose their equipment too. In a world of permanency, character life and death takes on new meaning.
What This Means for Tabletop Gamers​
In the past, organized play has been managed using certificates (AKA "certs"). Here's how Wizards of the Coast
announced special magic items using certs
:
​
Certificates are given out for special rewards and permanent magic items at stores and public events where available. Possessing a certificate for your magic item, in many cases, unlocks the ability for you to trade the item – the certificate even has a trade log right on it if you'd like to trade it to another player's character. Each tradable item can be traded up to two times in total. Magic items can only be traded on a one-for-one basis and only with another item of like rarity (so, for example, a rare item for a rare item). Most other rewards that are presented on certificates are non-tradable, as well as a small number of very special magic items. If you pick up a faction pack at your store during D&D Encounters, you'll get a few of these special, non-item certificates. As long as you properly document the acquisition of your magic item, it may be possible to receive a certificate for items you previously obtained that did not have a certificate. This might be helpful if you're looking to trade out an item at a later time, but otherwise, it's not necessary.
The certs program is managed by the Adventurers League, but there's many other organized play groups that perform a similar function in ensuring a large group of players can play equitably with each other using one agreed-upon system of rules and management.
In addition to managing basics like certs (who needs a print certificate when you have a blockchain account confirming your +1 sword?), the possibilities expand considerably to home play. A third party could launch a blockchain-backed inventory system for everything from characters, who would now have a digital "life," to magic items. Those items, using blockchain, would each be unique and "digitally permanent," capable of being used across games that could authentic the veracity of the imaginary product. With digital platforms like Roll20 enabling tabletop play, blockchain tech could make cross-game compatibility between players and groups even easier.
Blockchain technology has implications for real world currencies too -- Venezuela's government launched the world's first sovereign cryptocurrency, the petro,
in February 2018
. The possibilities for any form of fantasy play are enormous, as Cryptokitties demonstrated. Thanks to blockchain technology, your character could outlive you!
Last edited: