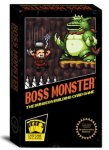 ​
A few weeks ago I found Boss Monster by accident at a videogame store, and last week I finally got to try it out.
BM is a non-collectible card game for 2 to 4 players by
Brotherwise Games
, themed after classic side-scrolling games like Castlevania and retro-RPGs, in which you play the role of a titular Boss Monster managing his dungeon, attempting to lure heroes in with treasure in order to kill them and take their souls. First player to get 10 souls wins the game.
Each turn you draw Room Cards, which you can then build, up to a maximum of 5 (you can replace/destroy/upgrade them, allowing you to respect your dungeon constantly). Each room has three basic elements: A treasure type that attracts specific heroes (fighters seek fighter treasure, mages seek mage treasure, etc), a damage score (heroes die when they have received enough damage while traversing the rooms), and a unique special ability. There are also Spell Cards you earn under specific circumstances that allow you to gain boons or thwart other players. Bosses themselves have unique powers that activate once per game.
Heroes are drawn every turn at random and then go to the dungeon with the most treasure of their desired type, so the game operates on a bidding conflict. Being too tempting can be dangerous, however, as if you don't kill a hero before it reaches your Boss Monter, they hit you (5 hits and you are out). A key strategy is knowing when to push to get heroes and when to force other players to deal with them, using Spell Cards to screw with their rooms. When to specialize your dungeon, when to spread over various treasure-types/abilities, and when to change it are also fundamental considerations.
Our first game lasted for about 40 minutes, as every card has a unique instruction (with many combos that require certain degree of knowledge beforehand to pull off); explaining the rules took less than 10 minutes. Subsequent games took between 20 and 30 minutes; everyone wanted to roleplay their villains, so that made the games a bit longer. I can imagine a quick group that already knows the cards taking 15 minutes per game, even with sophisticated strategies.
The game is very entertaining, humorous, and very pretty to look at, with every card having beautifully drawn pixel art. There's a huge amount of references to video- and roleplaying games (even a very direct one to D&D 1e), which adds to the fun factor.
There is an expansion already out and a sequel, which I understand can be played both as a standalone and as an expansion to the first game.
One thing I do reccomend is using the alternate rule for souls and hits: Instead of winning at 10 souls and losing at 5 hits, the game ends when all heroes have been drawn, and then you substract the number of hits from your soul total to determine score. This avoids removing players early on from the game, letting everyone play the whole game (I noticed that some people can get screwed by the random nature of the cards within the first half of the game, getting killed in a few turns).
Absolutely recommended.