Back in 1985, Mark Morrison—now renowned in RPG circles for such mythos masterpieces as Horror on the Orient Express, Terror Australis, Reign of Terror, Call of Cthulhu the Video Game, and more—wrote his second-ever scenario for Call of Cthulhu. This was for a competition in White Dwarf Magazine. To Mark's great surprise and delight, his submission was a runner-up in the contest. Although he won a year's subscription to the magazine for his efforts, sadly the adventure never saw print. But that experience was a huge validation to a then 20 year old budding writer, and before long, Mark was writing for Carl T. Ford's legendary Call of Cthulhu fanzine Dagon, and soon after, working on his first published scenario for Chaosium ("Land of Lost Dreams" for the H.P. Lovecraft's Dreamlandsboxed set).

But now, with the advent of the Miskatonic Repository on DriveThruRPG, we have the chance to see that early scenario of Mark's in print, at last! In his afterword to The Saltwater Inheritance, Mark writes, this is...


"my second-ever Call of Cthulhu scenario, straight outta the Eighties and entirely unedited (well, I did change a couple of words that bugged me, but this is pretty much as it was).

Looking back over it, I'm pleased with how sand boxy it is, but annoyed by my utterly lazy Mythos Monster Manual approach. (REDACTED working with REDACTED… huh?) But, it was backintheday, we were reading Lovecraft for the first time and just going crazy with this stuff. We didn't bother with things like research or internal consistency, we just tried to think up crazy stuff to freak each other out by candlelight.

I still remember the night we play-tested this, in the share house which was falling apart (the original cracked and crooked manse). I remember the faces of Penny, Seán and Leigh and the others in the dimly lit room, and describing the final confrontation in the church.

That was three decades ago. My old house mate Leigh Southall is no longer with us, but I can still see the chair from which he would smoke, drink coffee, draw beautiful sketches, roll dice and play eccentric characters. That's why we play, to tell stories with our friends.

So, I hope you get to play it too, with all its crusty unedited flaws. Light the candles. Scare your friends stupid. But they'll always remember the night they saved the world, or, at least, a small corner of fictional England."

​
We have cheerfully assisted Mark in getting this early work into publication by recommissioning the Saltwater Village map (fine work by Kalin Kadiev) and selecting some illustrations from the Miskatonic Repository Art Packs. Chaosium and the Miskatonic Repository hope you enjoy this piece of Call of CthulhuRPG history!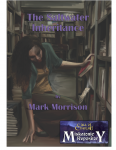 The Saltwater Inheritance, by Mark Morrison
​