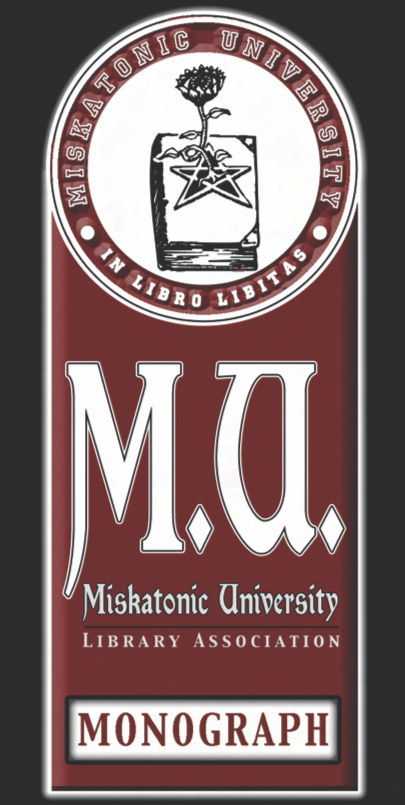 ​
Chaosium has officially retired its "Monograph" series, which between 2003 and 2013 released material for the Basic Roleplaying System and, under the Miskatonic University Library Association (MULA) imprint, for Call of Cthulhu.
Established in 2003 and spearheaded by
Dustin Wright
, the monographs were an important precursor to the
community content programs
now a familiar part of the TTRPG market, including the
DM's Guild
,
Storyteller's Vault
,
Pathfinder Unlimited
, and Chaosium's own
Miskatonic Repository
,
Jonstown Compendium
and
Explorer's Society
.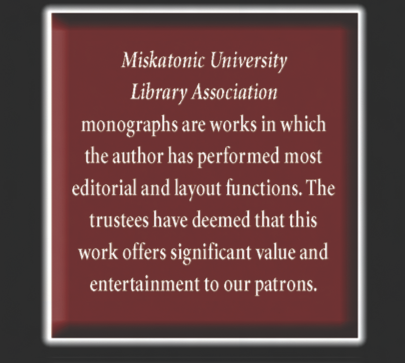 Independent creators could release titles under Chaosium's Miskatonic University Library Association or BRP brand, and — as with current community content programs — retain ownership of their original creations while using Chaosium's rule systems and IP.
Monograph creators also performed most of the editorial and layout functions, with Chaosium printing and distributing what was submitted. While this meant quality and consistency could be somewhat variable, the monographs were a successful and innovative program that produced various products, including
Cthulhu Invictus, Ripples from Carcosa, Secrets of Morocco
, and
Secrets of Tibet
, that were later revised and republished as mainline Call of Cthulhu releases.
Many well-known Call of Cthulhu authors also got their start writing monographs for the MULA.
"While innovative for its time as a model to support independent creators and to foster new writing talent, the monographs have been superseded by our thriving community content programs at DriveThruRPG," said Chaosium vice president Michael O'Brien.
"We will be contacting the monograph creators to finalize any payments and advise them that the Miskatonic Repository is a now an option for them to keep their work in print. For the former monographs we will be waiving the usual requirement that a title be a Electrum seller (250 pdf sales) before it is eligible to be print-on-demand. Furthermore, our
community content ambassadors
will be on hand to assist MULA creators who wish to convert their work to the Miskatonic Repository format," said O'Brien.
WANT TO TAKE PART IN THE MISKATONIC REPOSITORY COMMUNITY PROGRAM?​

Under The Miskatonic Repository community content license,
Call of Cthulhu
fans can make their own work for use with the game line available to the public, using
guidelines, templates, and art
provided by Chaosium.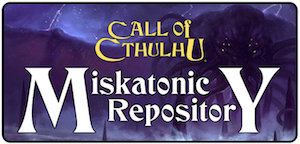 Whether you share your content for free or put it up for sale, this program is a digital home for terror that joins the dreamscapes of all who peruse it.