​
The review site
Reviews from R'lyeh
— a "blog dedicated to reviews of RPGs and their supplements, with an emphasis on
Call of Cthulhu
and other Lovecraftian inspired games" — marks its
1500th review
this month with a review of the
Call of Cthulhu
RPG.
Reviews from R'lyeh
reviewer Pookie concludes the characteristically
comprehensive review
by noting: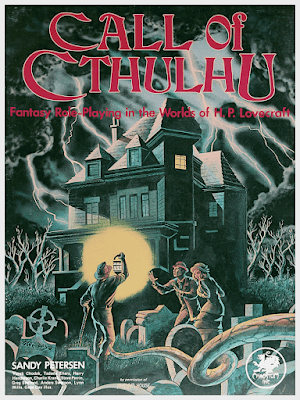 "There is a reason why Call of Cthulhu is regarded as one of the greatest roleplaying games ever published. It is a classic piece of design that successfully emulates the singular genre it is inspired by and in doing so, introduced new ways to roleplay and tell amazing stories as well as innovations to the roleplaying hobby that are still influential today. It is always going to be the greatest horror roleplaying game there is, not just because of the Mythos, but because of its influence, innovations, and the simple fact that it can still give you a great playing experience."
In October 2019, we
congratulated
Reviews from R'lyeh on its 1000th Review, which was of Greg Stafford's masterpiece
King Arthur Pendragon
("one of the greatest roleplaying games ever published, the perfect combination of mechanics and theme", said Pookie.)
We now congratulate Pookie on reaching this new milestone of 1500 reviews!
What is also notable is Pookie's commitment to reviewing work by independent creators (many first-time authors) in the
Miskatonic Repository
and
Jonstown Compendium
community content programs at DriveThruRPG. You can find these at Reviews from R'lyeh under the search tags '
Miskatonic Monday
' and '
Jonstown Jottings
'. This support of new and up-and-coming TTRPG creators is greatly appreciated!
Last edited: