​
Now available from our friends the H.P. Lovecraft Historical Society, the truly amazing
Call of Cthulhu Classic Gamer Prop Set
. Created under license to coincide with the release of our
Call of Cthulhu Classic Kickstarter
*, it contains 124 individual props in this set, all organized into handy folders with complete instructions.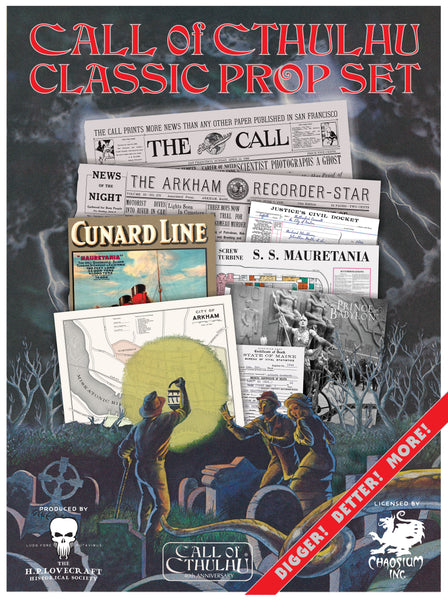 ​
*Remember – if you missed the Kickstarter: we will have left-over copies of both of the Call of Cthulhu Classic boxed sets available for sale to the general public via Chaosium.com. These will go on sale directly after the Kickstarter fulfilment, tentatively scheduled for early May.
The HPLHS won Product of the Year in the 2019 ENNIE Awards for their
Masks of Nyarlathotep Gamer Prop Set
, and for Call of Cthulhu's 40th anniversary they promised to raise the bar with levels of detail and realism to enhance fun and test sanity.
Did they pull it off? Jon Hook of the
Modern Mythos Podcast
has already unboxed his copy – his verdict:
"This is the most amazing thing I have ever seen."
Watch Jon's unboxing here: