Hi everyone!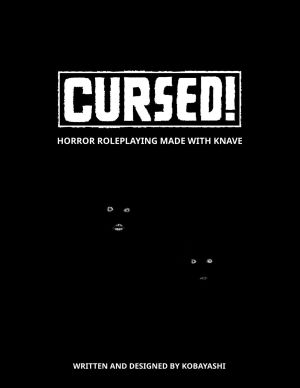 Cursed! is released:
Basically I wanted a horror rolepalying game as simple as Knave to run my favorite horror adventures.
What's different though?
Modern-era
this is meant to run anything from late 19th century monster hunting to contemporary survival horror.
Knave
's item slots system will be familiar to
Resident Evil
players.
No classes and no levels
no hit points bloat, characters can get better but fights remain dangerous. Smarts trumps violence!
The game comes with horror-themed spells, a bestiary and the tools to customise or create your own monsters.
Short, concrete and easy guidelins
to help you run horror games.
The game is licensed under a
Creative Commons 4.0 International License
: you are free to share and adapt this material for any purpose, including commercially, as long as you give attribution.
It's 2,50$ on Drivethru