Cursed Captains of Cthulhu
is a roleplaying game about swashbuckling action and eldritch horror, occult organisations, and striving for freedom for all under wind and sail. You take on the role of a pirate of the brethren court, fighting for liberty, profit, and to save the world from world-ending threats of cosmic elder gods, their cultists, and things from beyond the stars. The game uses an easy-to-understand set of rules that lets you jump right into the action but still gives you the tools to build unique archetypes and characters your own way.
Check out the Kickstarter here!
From the developers behind RPGs including
The Spy Game
,
Fallout
,
Star Trek Adventures
, and
Dune
. The writing team has decades of experience and includes: Sam Webb, the head of RPG development at Modiphius Entertainment and designer for the
Fallout RPG
and
The Spy Game
; James Barry, writer for
The Spy Game
and developer for
Dropzone Commander
,
Fallout: Wasteland Warfare
,
Kung Fu Panda
, and more.
Added to the writing team are Kienna Shaw (
Candlekeep Mysteries, Sea of Legends
), Donathin Frye (
Fallout, Achtung! Cthulhu
), and Jessica Ross (
Van Richten's Guide to Ravenloft, Uncaged Volume I
).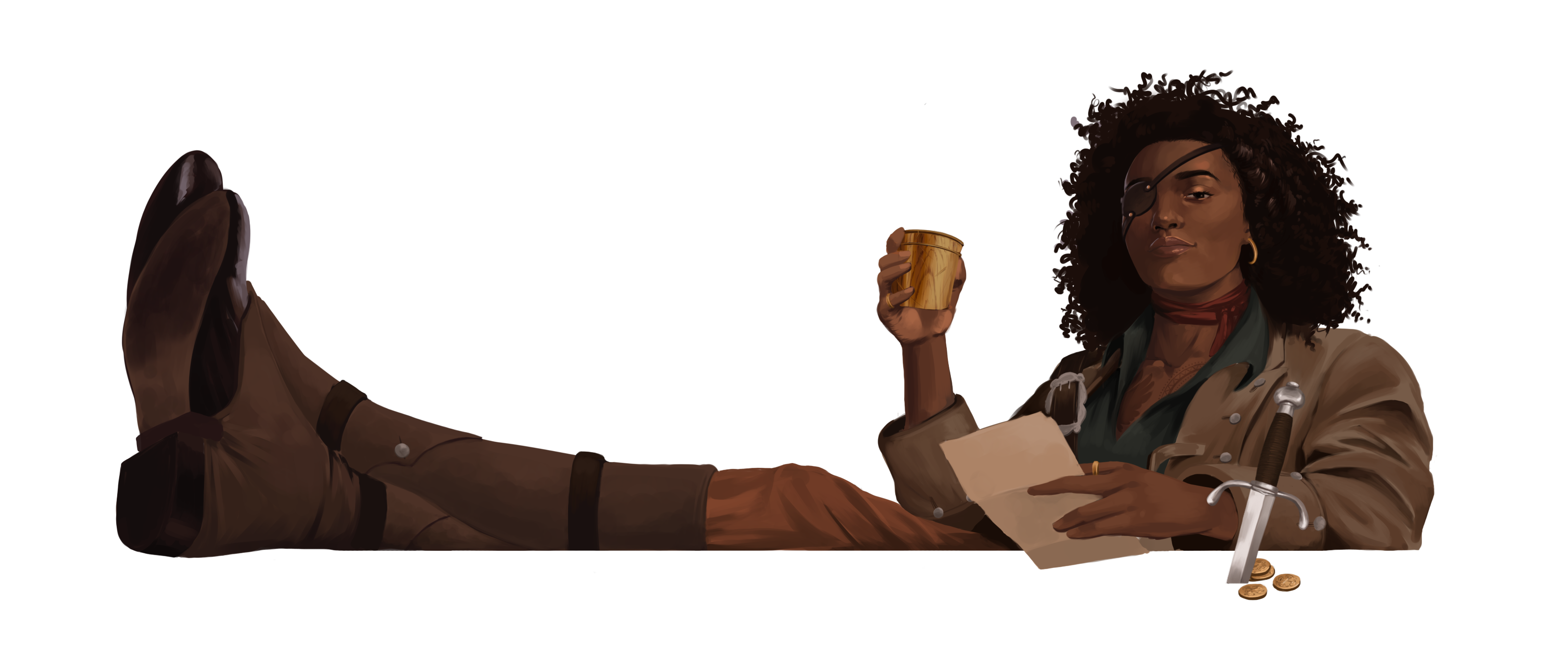 Choose your Starting Profession.
Choose from eight character beginnings, then build and level up with over 150 skills and traits to create utterly unique characters.
Sail your Ship to Glory.
Hire your crew of miscreants, ne'er-do-wells, and seadogs, and take to the Caribbean sea to fight for freedom, plunder, and against the insidious mythos forces at play.
Explore a Parallel Golden Age of Piracy and the Lovecraft Mythos.
Explore a Parallel Golden Age of Piracy and the Lovecraft Mythos. Fight with - or against! - famous pirates, explore the pirate republic, and delve into the unknown depths with all their dangers and untold knowledge. But should it even be uncovered, or will that knowledge drive you to the edge of your courage and into the abyss?
Powered by a brand new 4d6 system.
Core rules that are easy to learn and get you right into the action.
New Digest Guide System.
Quick summaries of the rules for experienced RPG players in new, easy to reference digest form.
Check out the Quickstart rules here!
Our Kickstarter is live NOW and runs until 30th July!
All hands on deck, anchors aweigh! Time to set sail for adventure!