All art is by
Storn A. Cook
, who plays Kendrick and is talented enough to have done 3/4's of these sketches at the table.
First thing's first, I'm a player character. I'm not a character in a fantasy book and though me and those other fictions have some in common, there's tons that is just plain different. As of now, there's more of me that exists off the table than on the table. That is a damned lonely place for a player character to be. I've only been through one combat encounter of my first adventure, that's on the table. The rest is all back-story.
Back-story's nice, it gives my player something to build off of but it just doesn't have meat to it, like rolling a natural 20 while whittling at stick. But here we are, discussing back-story, let's get to it.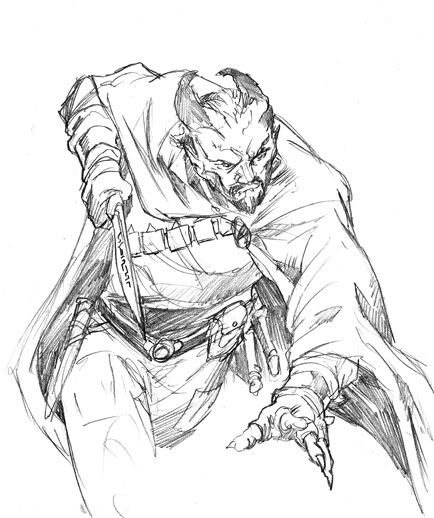 My name is Melech the Red and it isn't because I wear scarlet or because I have red hair. My hair's black, though I shave it bald to accentuate my horns, though I keep a black beard just like ole Asmodeus, the God-Tyrant of Hell, because the ladies find it dashing. I gained my moniker after my first kill. I was covered in blood like an amateur and my brothers thought it was all hilarious.
I'm a Dungeons and Dragons character, made up in that new fourth edition. I'm a Tiefling Rogue, grabbed that feat that allows me to take some Warlock nifties, mostly because my player had a vision of a rogue with a dagger in one hand and a wand in the other. My family used to kill for a Tiefling duke, back when we had an empire. We were the knives behind the throne. Nowadays, since the fall of Bael Turath, my family's nothing but thugs with knives. And I come from a big family. I have thirteen brothers and seven sisters, cannot even be bothered to count the cousins and uncles and aunts. We settled into an urban sprawl and carved out our place in blood.
Something happened, something I'm not ready to talk about just yet (my player hasn't made it up yet) and I lost my taste for the family business. I got the hell out, no pun intended. That was when I ran into the Fighter, Kendric Dell - Fafhrd to my Grey Mouser. Where I was raised in a family of devil worshipping killers he was raised by city guard, generations of them. His brothers all became city guards and his sisters all married city guards, or so he told me. Yeah, Kendric is a player-character too, couldn't you tell?
Kendric got into a duel with a noble and when he killed the bastard the city's rulers wanted him put to death. The Dell family saw differently and they let him go, told the ruling family that he had broken free. Nowadays he's on the lam, out into the world, adventuring with me. We were made as second level characters, which is a pretty swank way to start, I've got to say. We were joining two other P.C.'s after their first few adventures and the Dungeon Master wanted us to be of equal level. Our first level adventure was off-table, something our players thought up to fill in that gap between first and second level. If it was a module, it would have been called Night of a Thousand Knives; we ran like hell from my family, dozens of Tiefling assassins.
We joined two other player characters, Petal and Bok.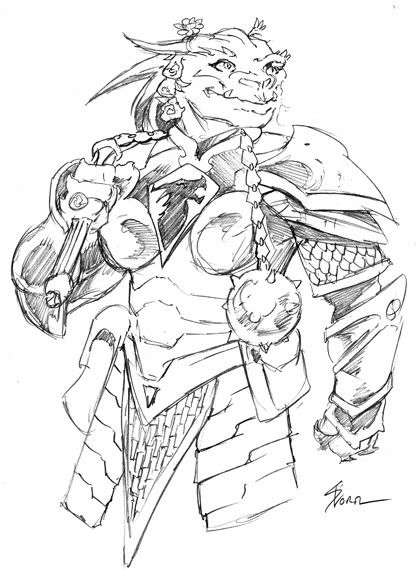 Petal is a Dragonborn Cleric, silvery lavender scales and a flower in her scaly mane for every time she's done good, every time she took out her morning star and thumped evil in the head, leaving the world a better place. Petal wants to take those points of light, those little pieces of the world that are just and right and weave them together to fight against the darkness. That is a nice thing. She wants to do it in Bahamut's name, breathing lightning and smashing skulls as she goes. That is a kick-ass.
Bok is an Eladrin Wizard, straight off the boat from the Feywild. Bok's pretty and carries a sword. He's more like me, morally flexible, Unaligned if you believe what the ole character sheets say. There is some debt from the Feywild that is eating at him but I only know about it because Petal's player mentioned it before Bok's player showed up and then Bok's player alluded to it when my player gave her a ride home. It is hard to remember that Bok is a man, in part because he's just so fey pretty and also because he is played by a pixie-ish lady. Bok and Petal had just cleared out some bandits and wouldn't ya know it, rather than meet up in some dingy tavern, Kendrick and I were on the trail of those same bandits. I love putting a knife in the face of a bandit; no one cares about a bandit.
We all had connections and reasons to head to Winterhaven (psst, I think the adventure's afoot in Winterhaven), so we all agreed to watch over a caravan that was headed over there to trade bolts of cloth for Winterhaven wheat. The roads are dangerous since the empire fell and they just seem to be getting worse all the time.
The lady selling the bolts of clothe mentioned kobolds. They attacked us on the road. Amateurs.
I was scouting ahead but I'm a city-boy, so that meant I went ahead a bit, nestled up against some rocks with some nice Stealth rolling and just took it easy. My Perception isn't so hot, so I didn't see the ambush coming but my Stealth was swank enough so they didn't see me coming either.
Bok noticed two of the Kobolds, Dragonshields, with heavy armor and pointed them out to Petal, who was on point. That was when the slinger jumped up on the boulders whose shadow I was hiding under and hit our resident priest of Bahamut with a pot of glue-crap. Until Petal made her save, it was going to be tough for her to maneuver. She was promptly swarmed with kobold minions. Those little bastards move fast.
Having an enemy, particularly the ranged attacker, end up next to a Tiefling Rogue like me is like Asmodemas morning (like Christmas, only bloodier). I put a hard whack on the Slinger as soon as the surprise was over. Shurikens shaped like pentagrams hit him in the neck, leaving him a bloodied mess, both in the fiction and on paper. Then the bastard hit me with some kind of pot and I went on fire. It didn't hurt but I hate being set on fire; it reminds me of my sisters, always setting me on fire for kicks when I was a boy. On instinct, I took out my wand, thinking I'd hit him with the Hellish Rebuke but by the time I cleared the smoke from my eyes, pointed the wand at the proper pot and hit, it would be too long by my player's reckoning. When it comes to murder and to love, my pa always said, keep it simple. I knifed him and he shifted, then ran.
On the other side of the battlefield, Petal was trying to get out from the midst of kobold minions so Bok could do her...his thing. Kendrick was wading in, last to step up but this gave him a good view of the battlefield and he slipped in when and where needed. The kobolds talked some smack to Petal in Draconic, a language I don't grok but I heard later they said something about her breeding being questionable...bad move. Once Petal hacked her way free, Bok dropped icy death left and right. I didn't see it, as I was on fire and taking a knife to a kobold down the road, but I did see several Dragonshields frozen solid. Their hands, once broken from their frozen arms, made lovely popsicles.
Koboldsicles. Yum.
Working with Petal was a good time. She strode up to the Slinger, healing my wounds with a glance and a prayer to the Platinum Dragon she worshipped, all six foot five of her bulk right in his face. Once he was between us, it was no big thing for me to come up behind him, shove his head into Petal's armored chest and knife him in the armpit.
"You like fire, now?" I asked his corpse.
Petal's chest had some kobold gore on it, from my little flanking-inspired murder; I apologized and offered to wipe it off when she turned for the remaining minions and Dragonshields.
We won the day handily.
One of the Dragonshields, the last remaining of his ilk on the road, threw down his sword and surrendered. "Please, leave my bloody armor here, so they think I'm dead. If they think I live, they'll kill my family."
Petal got him tied up.
"Is it Dragonborn tradition to tie up captives before we knife them to death?"
Kendrick and Petal looked at me with disapproving glances.
"He surrendered, Melech," Kendrick said, chastening me. Bok laughed, though. I'll have to give a visit to the Feywild some time. I bet they could find uses for a knife of my skills and temperament.
We ended there, Bok thought to ask about the treasure they might have on them but we never got to it that session. Sleep, salsa dancing and other real life stuff that players need to deal with meant an early end for our game.
We'd better meet again. I don't want to end up one of those sad character sheets in the back of a Players Handbook, the one that only got one half-session in before the game went south, the kind with all kinds of unanswered questions. I hope not; I'm curious to see what I become.
What does Bok owe and to whom? Will we run into my murderous, Asmodeus-worshipping family? Will Kendrick's past catch up with him? Will Petal make the world a better place in the name of Bahamut by smashing evil in the face with a morningstar? Who has this kobold's family under threat? We'll find out in future sessions, I bet and once we do, I'll likely knife our problems in the face, maybe setting them on fire from the shadows before I do so. I look forward to it.
Last edited: