Jim Ward's original Deities and Demigods manuscript is on auction at eBay. As of the time of writing it's at $11,000!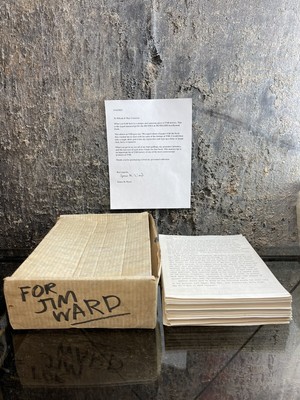 Find many great new & used options and get the best deals for ! SPECIAL ITEM ! ORIGINAL JAMES WARD TSR DEITIES & DEMIGODS MANUSCRIPT D&D GYGAX at the best online prices at eBay! Free shipping for many products!

THIS MAY BE ONE OF THE MOST HISTORICAL ITEMS YOU CAN BUY FROM JIMS COLLECTION! IT IS THE ORIGINAL MANUSCRIPT FOR THE POPULAR TSR HARDBOUND BOOK "DEITIES AND DEMIGODS, RELEASED IN 1980 BY TSR HOBBIES IN LAKE GENEVA. IT ALSO INCLUDES A LETTER FROM JIM HIMSELF AUTHENTICATING THE MANUSCRIPT AND SHARING A LITTLE BACKSTORY ABOUT IT.

IT IS BEING SOLD AS-FOUND IN THE ORIGINAL CARDBOARD BOX IT WAS STORED IN.

Jim worked at TSR in Lake Geneva for 20+ years. He is also the creator Gamma World, the first role-playing game in the post apocalyptic genre.
UPDATE! The auction has been taken down, as Jim Ward had discovered it is a photocopy not his original manuscript:
"EBAY DEITIES LISTING
So many people asked about the copy issue I took back the manuscript to check it out. I discovered to my horror all the pages were photocopied. Apparently when TSR finished editing the manuscript and I asked for a copy, they sent me back a photocopy and I didn't know it. So in evaluating the worth of the manuscript you have to ask yourself if buying my personnel copy is worth it. I have taken down the ebay listing and will be putting it up again tomorrow with the correction listed in the item.
I'm sorry for the honest mistake. I wasn't trying to trick anyone. I thought it was my original."
Last edited by a moderator: